GC commissioners to apply for variance to enter Phase 2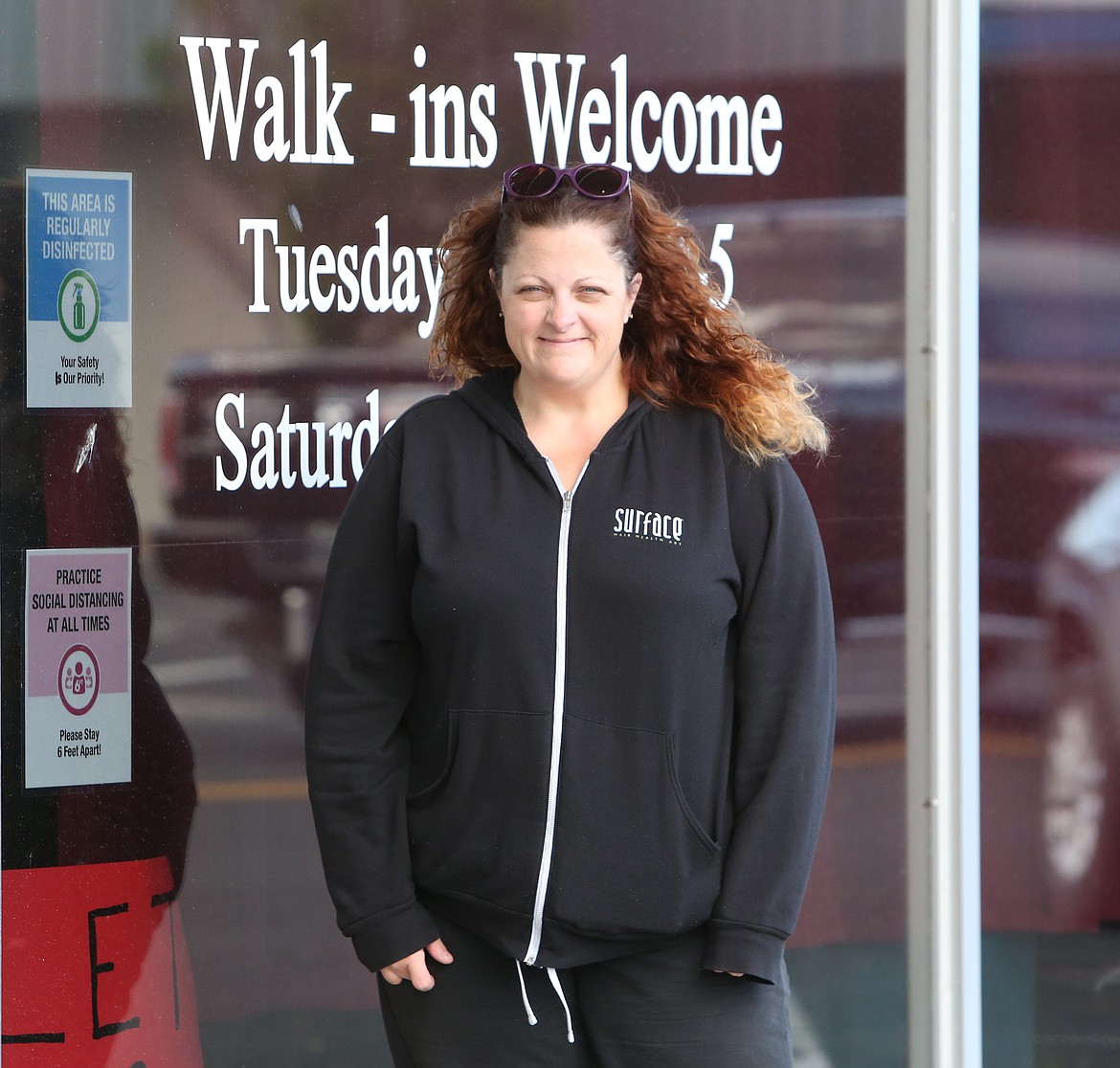 Connor Vanderweyst/Columbia Basin Herald Heather Kerekffy, owner of Salon Envy in Moses Lake, stands in front of her closed business Thursday afternoon. Kerekffy hopes Grant County can be approved for a variance and move into Phase 2 of the governor's reopening plan. "Knowing that there is hope that we can reopen sooner than later is probably the best thing that we can do for ourselves and every community member and client that we have," she said.
CAMP MURRAY — Grant County is eligible to apply for a Phase 2 variance, according to a late Thursday press release from the Washington Joint Information Center. Being allowed to move to Phase 2 of the state's reopening plan would be a major step for county residents and businesses reeling from the mandated shutdowns due to the COVID-19 outbreak.
The application process for a variance and move into Phase 2 early requires support from the local health officer, the local board of health, local hospitals, and the county commission, the press release stated. Grant County commissioners stated that they intend to submit that application Friday.
Taking that step would signal their confidence to move forward, while the state has a number of requirements that are not fully explained, according to local health officials. The main criterion necessary to submit an application is lowering the number of new cases of the novel coronavirus per day. Counties must have an average of less than 10 new cases per 100,000 residents over a 14-day period, which Grant County had met as of Thursday afternoon, according to local health officials.
The application must include plans for addressing the tail-end of the current outbreak and demonstrate the ability to manage any possible future outbreak. State officials have not always provided clear guidelines for what does and does not qualify, according to local health officials. For instance, the county would be required to make testing available and accessible to everyone in the county with symptoms, according to the state. However, the county receives testing supplies largely from outside sources, a large part of which are dependent on procurement by the state, according to local health officials. It's not entirely clear what level of testing supplies and capacity exactly would be necessary to meet the state's requirements, said Laina Mitchell, communicable disease coordinator for the health district, on Thursday.
"We are working on that side of things right now — the governor's document in a lot of cases did not give specific quantities," Mitchell said. "It was pretty vague."
The county also has to show the state that it has some type of quarantine facilities available for people who can't or don't want to do so at home, whether they're homeless or, Mitchell noted, they may be immunocompromised and unable to be isolated with an infected family member. In an interview Thursday, Grant County Commissioner Cindy Carter said that she felt that criteria had been fulfilled and that sufficient housing had been identified.
The county is also required to provide "case management services" to those in isolation and quarantine, a requirement that Mitchell said the state had left up to interpretation.
"We have smaller communities, so we have a couple of different resources for folks," Mitchell said. "It's really just firming up those loose edges."
Without having specific numbers to address in writing Friday's Phase 2 application, Mitchell described the process as akin to writing a persuasive essay, trying to make overall justifications for why the county feels confident that it can manage potential future surges of cases.
One requirement was quantified: Infected individuals should generally go no more than two days from the time they first have symptoms to the moment a coronavirus test is administered, Mitchell said. Meeting that threshold may be at least partially out of the health district's hands.
"We try to educate folks about recognizing signs and symptoms, but if people aren't utilizing that information, there's not much we can do," Mitchell said.
The health district is also required to have sufficient staffing for case investigations, which Mitchell said she felt was already the case.
The health district is expected to meet Friday morning to finalize details, after which the county board of commissioners is scheduled to meet to approve submitting the application.
The variance requests from counties are reviewed by the secretary of health, who can approve the plans as submitted, approve with modifications or deny the application. If circumstances change within the jurisdiction, a variance can be revoked.
---