A lesson to himself: Tony St. Onge must practice what he preaches in cancer fight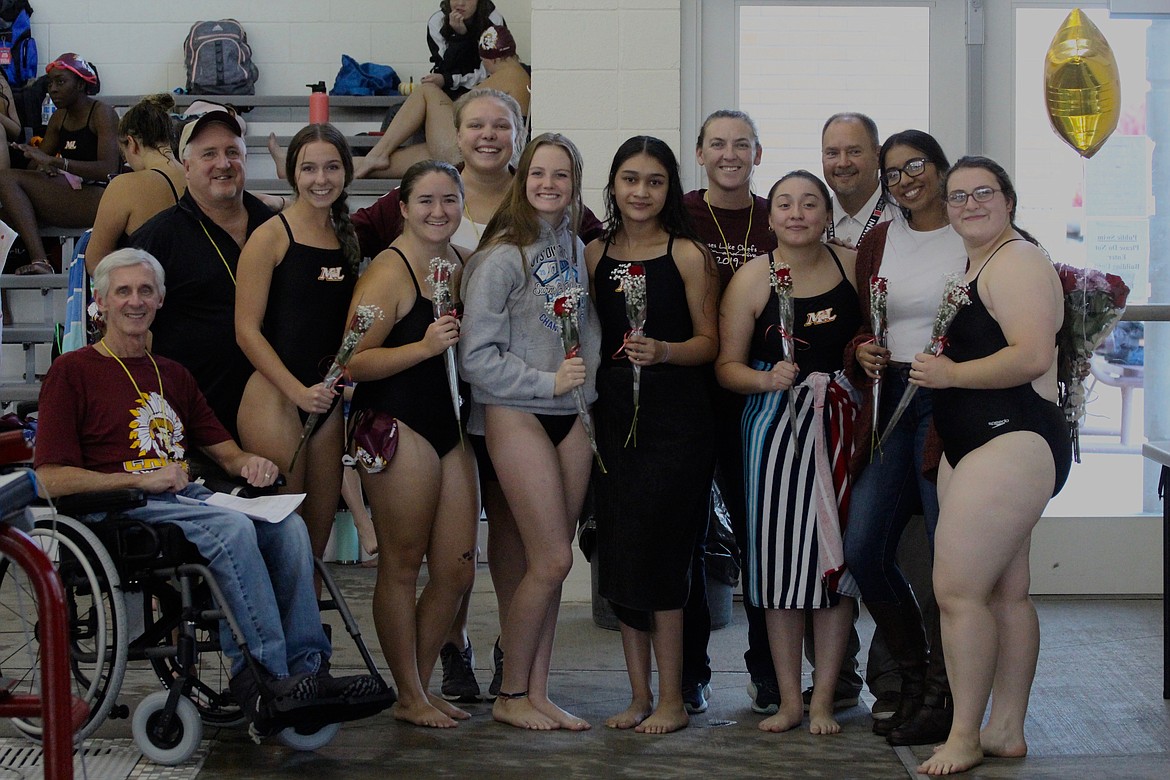 Casey McCarthy/Columbia Basin Herald Coaches and parents stand with seniors on senior day for the Moses Lake girls swim and dive team last fall at Moses Lake High School's Tony St. Onge Pool of Dreams.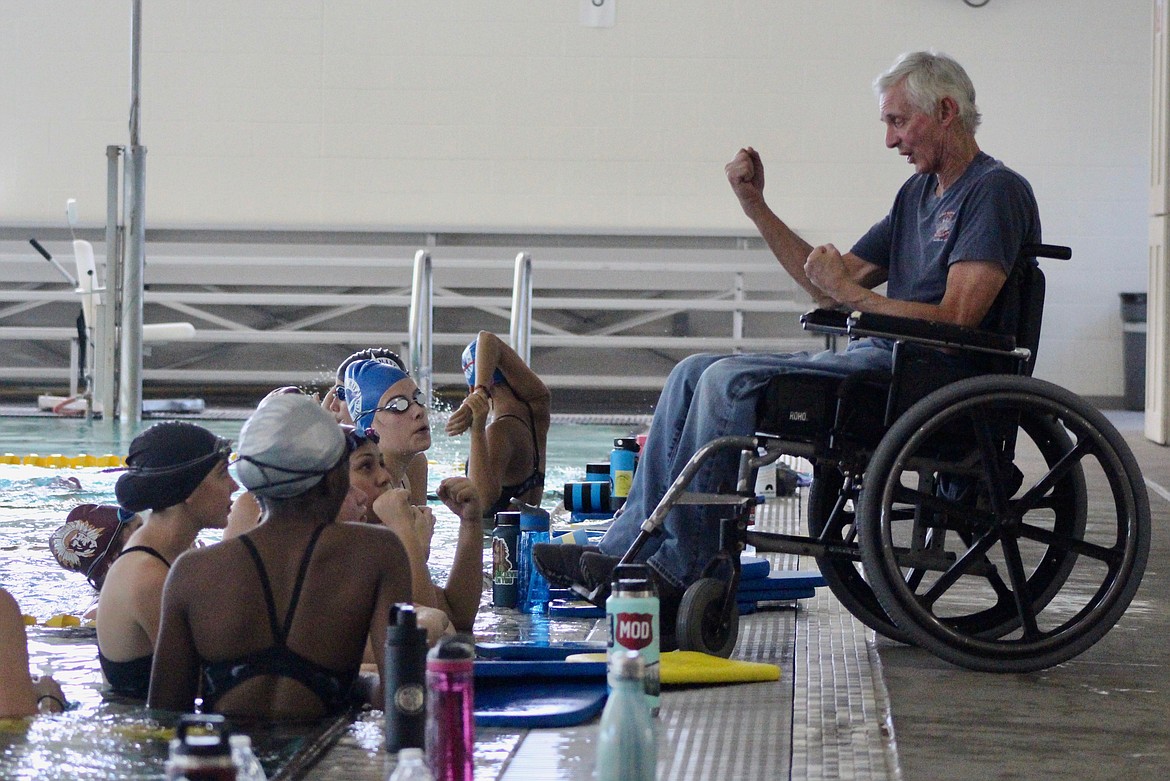 Casey McCarthy/Columbia Basin Herald Tony St. Onge talks with his swimmers during practice at Moses Lake High School before the start of swim season last Fall.
Previous
Next
by
Casey McCarthy
Staff Writer
|
March 15, 2020 10:26 PM
Swim community Lessons revisited
MOSES LAKE — "It's almost like everything in your life has prepared you for this moment, including coaching, clearly starting with athletics back in high school," Moses Lake head swim coach Tony St. Onge said. "You learn all these things as an athlete in high school, determination, grit, stick-to-it-iveness, you can take on anything, no fear."
St. Onge said he now has to take the lessons he's been preaching to his own athletes as he takes on a new fight. Recently, St. Onge was diagnosed with stage II Non-Hodgkin Lymphoma.
"I've been coaching in Moses Lake since 1977," St. Onge said. "I've been telling everyone else that you can do this, you can fight this, you can get through this shoulder pain. All those things you say as a coach through those years, and guess what, they apply to me now."
St. Onge said he began experiencing abdominal pains a few days before the District 6 championships for boys swim and dive at Moses Lake High School, which was held Feb. 6 to 8. He said doctors had told him something wasn't quite right.
The swim coach powered through the district meet and said he didn't feel any pain in those few hours, on a "coaching high" almost. St. Onge then went for a series of tests the next week in Wenatchee, culminating in the CT scan on his abdomen. The scan revealed several enlarged lymph nodes, with doctors telling St. Onge he must have hit a "tipping point" in the few weeks prior that led to the increased pain.
"If it is restricted to the abdominal area, that's the big hope right now, not that you want it there either, right," St. Onge said. "But the best case scenario right now is it is in my abdominal area, and that's the only place it is."
St. Onge said he's being treated through the University of Washington Medical School, and Seattle Cancer Care Alliance in Wenatchee. St. Onge is awaiting results from bone imaging tests done over the weekend to make sure that the disease hasn't spread into his bones. None has been found in any of the other major organs during tests thus far.
The first chemotherapy treatment will be on March 20, with a dose every three weeks. St. Onge said the plan right now is for six sessions, with his last session coming July 2. St. Onge said his lead doctor said the plan is to have him ready to go for the next swim season.
"My hope is the treatment goes well," St. Onge said. "We're going for a cure, she said this is curable. She said this is highly treatable, but it is curable. Then I would be coaching this fall as planned."
St. Onge said he was totally caught off guard by the initial news. As a paraplegic, he has dealt with a number of health issues over the years, with the digestive system being one of the main antagonists.
Nobody wants to hear the "c" word, but said it's not anything you can run from, St. Onge said.
"You have to face it, kind of like facing a tiger," he said. "You're back to prehistoric man. You see the tiger, and you make a decision, either run from it or fight. There's no running from this, so you fight it."
Lindy Williams is an assistant swim coach for St. Onge, and said one thing the head coach always preaches is PMA — positive mental attitude.
"I know that he has fears, and our swim community has fears," Williams said. "But because he's being strong and because he's taught us these modeling lessons of how to meet, and overcome, adversity, his support community is rallied behind him, because of his strength."
Williams said the reality of initially finding out about St. Onge's diagnosis was just sheer disappointment, having hoped this was just a minor complication from him being a paraplegic.
"It was hard and sad, and you have that moment where it's like, this can't be happening to this person, this person who has been dealt some pretty tricky cards early in his life, has paid his pain dues," Williams said. "Tony's a Christian individual and knows that God has a plan."
Williams said any pain or fear St. Onge has had through this, he's matched with strength and positivity, even when he was unable to make the trip to Tacoma for the 4A state swim and dive meet.
Knowing now the severity of St. Onge's diagnosis, as well as the issues he might have faced had he come into contact with COVID-19 as a result, Williams said the Moses Lake coach not making the trip was perhaps a "blessing in disguise."
"We're happy he made the hard decision to take care of himself, it all makes sense now," Williams said. "I think Tony's glad that he was able to teach the team that lesson to listen to your body, and take care of you when you need to take care of you."
The Moses Lake assistant said it's tough to know the true impact St. Onge has had on this community, but Williams said she knows it's great.
"We're blessed to have someone like him in Moses Lake who's invested in our kids to teach us all these lessons," Williams said. "And I hope that our community, and our athletes and people that have been affected by him harness these lessons and apply them in this crazy time we're in right now."
While it may be difficult to gauge the Moses Lake swim coach's impact, the outreach and support that came in almost immediately begins to paint that picture. A GoFundMe page was created for St. Onge last week, meeting the initial goal of $25,000 within just a couple of days.
The financial outpouring speaks volumes to St. Onge's impact in Moses Lake, but it was the overflow of messages from former athletes, parents and coaches who have been removed from the program for years, if not decades.
St. Onge said he was hesitant when his daughter, Joanne, and her friends, former swim and drill team members at Moses Lake, wanted to start the fundraiser for him. He said they wanted to try and have one less thing for him to worry about.
"Now I'm reconnecting with these swimmers from 1977, the first year I coached the Manta Rays was 1977," St. Onge said. "I was 21 when I first started coaching here. There were kids who were 17, 18 on the team. Now there's people who are 60 years old I'm reconnecting with."
The most important message was former athletes saying they weren't letting him off the hook after everything he'd been preaching to them for 40-plus years, St. Onge said.
Members of the swim community told St. Onge they now had the opportunity to step up and help him. St. Onge said Steve Washburn explained it best when he said the swimming community here is a family community.
Now, St. Onge said he realizes he's not only fighting for himself and his family, but his swimming family as well. That, the Moses Lake coach said, is a big motivator.
"I have this, I don't have to give into it," St. Onge said. "My little thing I have going on in my brain right now is face your fear, which is cancer. And if the goal is a cure, you have to face it with courage."
St. Onge came back to the lessons he's been teaching as a coach all these years. Coaching, St. Onge said, has provided an avenue for him to be able to do what's "naturally born" in him.
"Passion for the sport, desire to help others, and kind of a love for life, coaching gives a person the opportunity to do all those things," St. Onge said.
The Moses Lake coach and health teacher said he was always the kid growing up, telling his friends and family to exercise and eat right. St. Onge said he probably drove them nuts, but said he thinks most health teachers were that way at one time.
"When I first went into college I was going to go into medicine," St. Onge said. "So, I kind of already had that desire to help other people."
In college, St. Onge said he realized he wanted to be on the other side of medicine, helping to educate people to take care of their health to avoid going to the doctor.
"They've had their stroke, they've had their cancer, now they're trying to help them work out of that," St. Onge said. "My goal has always been to work away from that from the beginning."
St. Onge made the switch from medicine to health and physical education, and was hired in Moses Lake in 1978. He has been here ever since.
The swim coach was instrumental in launching and running the Manta Ray Aquatics swim team from 1977 to 1999. St. Onge has been at the helm of the high school program in Moses Lake since launching it in 1979.
During that span, St. Onge has a combined 19 district championships across boys and girls swimming, a 4A state runner-up in 1995, and has been named Columbia Basin Big Nine Coach of the Year five times.
In 1989, St. Onge was named Washington State Citizen of the Year by the Jaycees Club and received Moses Lake School District's Teacher of the Year award in 1998. St. Onge was instrumental in the building of the school district's pool in 2002, now named after him.
James Elwyn has been competing against St. Onge since he began coaching at Wenatchee High School in 2004. Elwyn said St. Onge has always been a "classy guy" that he feels other coaches can learn a lot from.
"I would say that even goes to what he's facing now," Elwyn said. "He sent me a long text yesterday that basically explained how he's gonna handle it. And he's going to handle it like I thought he would, as a fighter."
Elwyn said St. Onge is a coach that always has a high standard for his swimmers at Moses Lake, regardless of what they're competing for.
"He's always had high expectations for his athletes, but he also cares for them and you see that in the way he interacts with his kids," Elwyn said. "He'll push them to be the best they can be, but he's also concerned with them as individuals, first, and I think that's one of the things that makes him special as a coach."
The Wenatchee head coach said he's seen St. Onge deal with a lot of tough situations with his athletes over the years, and isn't surprised to see how he's handling his current situation.
"It's tough to see anyone go through this, but it's especially tough when it's a guy like Tony who's been in it for the right reasons from the get-go," Elwyn said.
As a coach, Elwyn said St. Onge never lost sight of the connection between building up someone as a person as well as an athlete.
Wide impact
Natilee Ruiz swam for St. Onge before heading to San Diego State University to swim in 2012. Ruiz, a student at Othello High School, swam with Moses Lake due to the lack of a program for the Huskies.
In her time under St. Onge, Ruiz nabbed six state titles and set five state records in her three years with the program. Ruiz now teaches in the Othello School District.
The former state champion said the thing she loves about St. Onge is that he didn't care how fast or slow she was; he only cared about her as a person, a whole person. As a part of the Moses Lake team through Othello, Ruiz didn't count toward any of the Chiefs' scores at meets and wasn't even officially on the team.
Despite this, Ruiz said St. Onge always made sure she was included in everything, whether it be food, travel, lodging or anything.
"He wanted to make sure that I was included in everything because he could never exclude anyone," Ruiz said. "That's just the kind of person he is."
Ruiz said high school girls can struggle with self esteem and confidence issues. She said she remembers a specific visualization technique St. Onge had them practice before an upcoming event.
St. Onge helped her feel confident and created a special feeling for her that she really appreciated about him.
"Of course he always wanted to make us faster, but he really wanted to focus on who were inside, and who we were as people." Ruiz said. "I love that about him."
Ruiz took over the youth swim team in Othello last season, and said her former coach reached out to offer his support and advice.
Starting swimming in Moses Lake when she was 10, Ruiz said she remembers St. Onge getting in the pool and just going nonstop beside them. Ruiz said she was just inspired by his strength and love of the sport.
"He's such a great guy and has such a great heart, and has so much knowledge and experience to share," Ruiz said. "Anyone you talk to, they're definitely blessed to be coached by him. He's really inspired me, not only in coaching, but just in life."
St. Onge said the wave of support is still overwhelming for him, but helps him realize what he's fighting for.
"My wife, people say the better half, well that's true," St. Onge said. "In our family, she's sort of the rock-solid one."
St. Onge said both his children, Joanne and Tyler, have taken time to help him out as he begins this battle. Tyler St. Onge is an officer with the Moses Lake Police Department; Tony's daughter Joanne lives in Seattle, operating her own salon in Bellevue.
Family and faith are two things Tony St. Onge holds close to him, and said his faith is something he thinks about "every moment of every day." As a practicing Christian, Tony St. Onge said he feels the presence and strength of Jesus Christ by his side, now more than ever.
"I honestly do feel the presence in my life, and it guides me in everything I do," he said. "I know there are many praying for me right now, and I am greatly appreciative because through the power of prayer, there is healing."
The Moses Lake swim coach said he's still the same person he's always been, and just wants to keep helping people.
"I'm still that person that went into teaching," Tony St. Onge said. "I want to help out other people, and throughout this journey, if I'm able to help, I want to do it. That's still my attitude."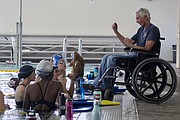 ---