A Chief's Last Run: Madisyn Clark looks to cap off Moses Lake career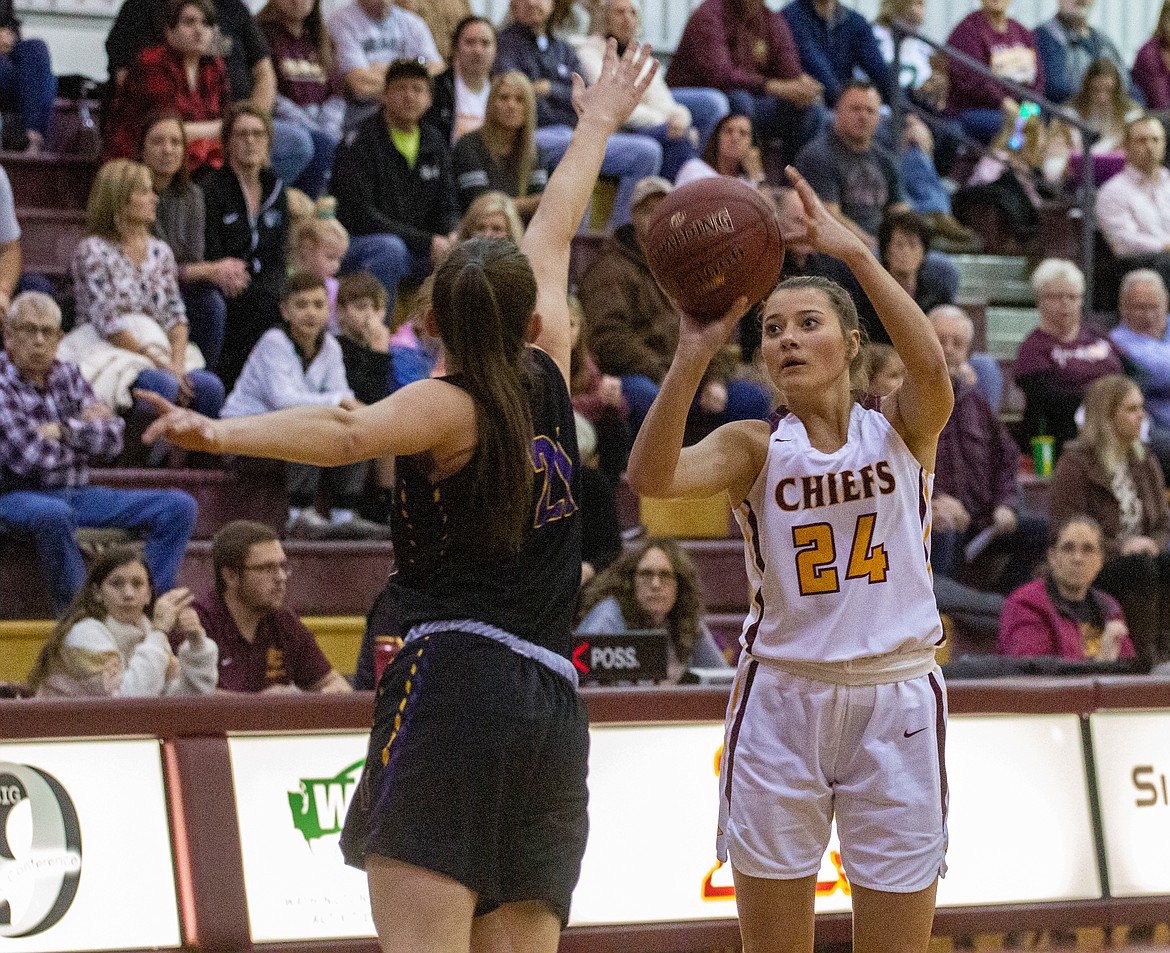 Madisyn Clark fires the long-range shot with the defender closing in. Clark will continue her playing career at Western Oregon University next season.
Casey McCarthy/Columbia Basin Herald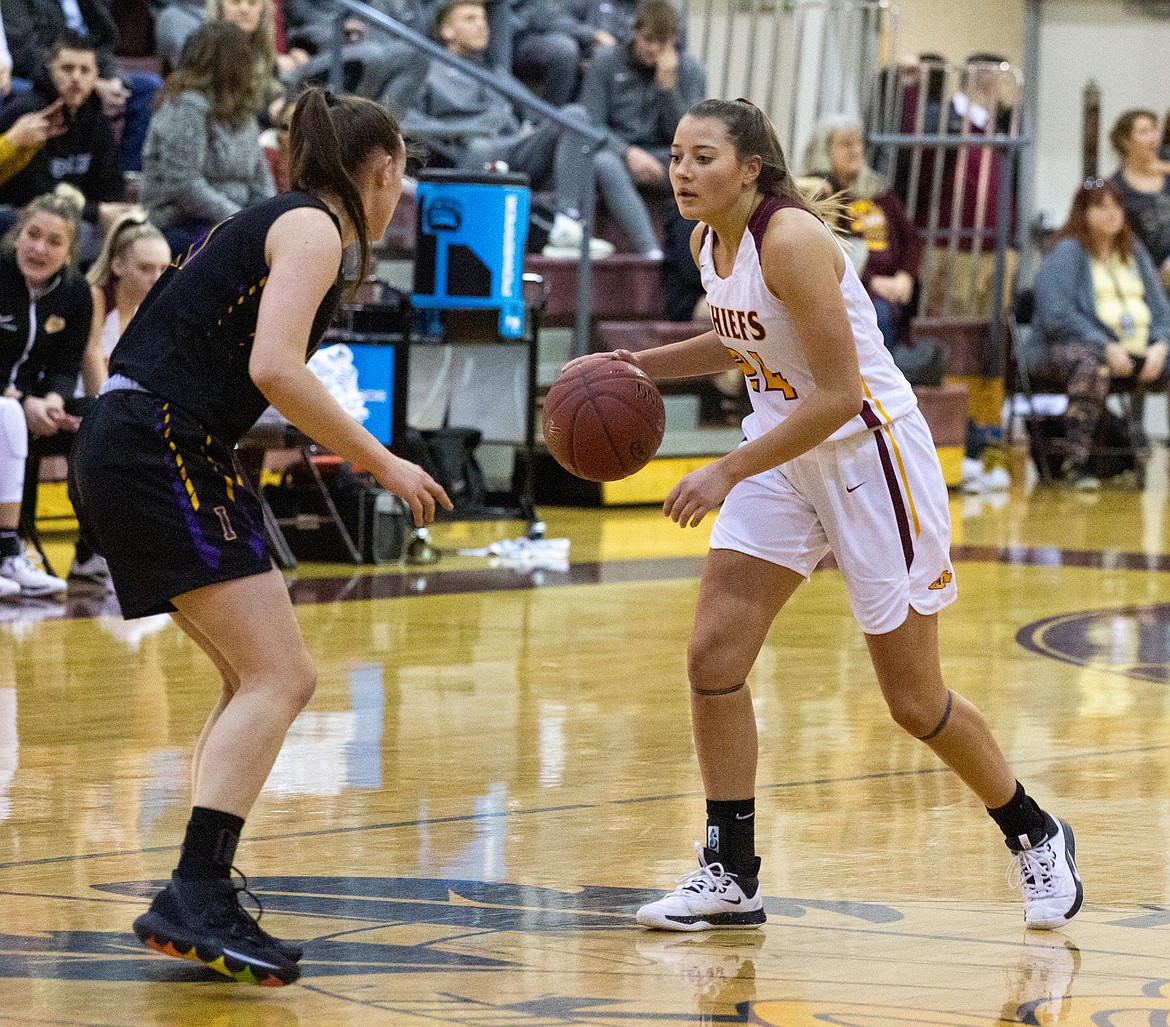 Madisyn Clark surveys the floor on offense in a home matchup against Issaquah last December.
Casey McCarthy/Columbia Basin Herald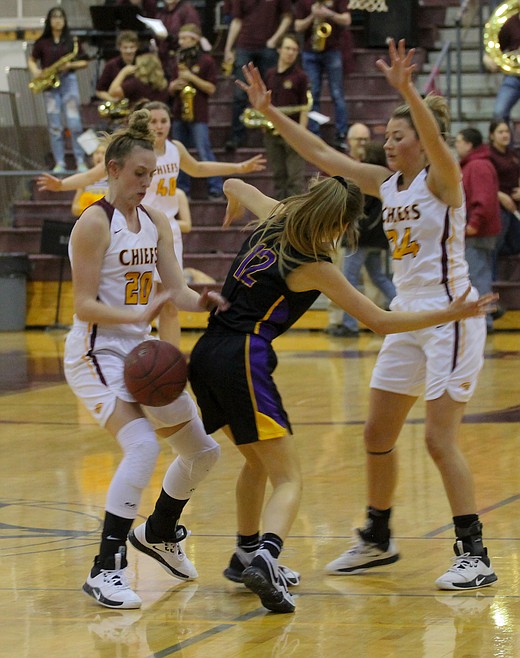 Seniors Camille Carpenter and Madisyn Clark combine to trap the Wenatchee guard and force the steal in a Senior Night win this season.
Casey McCarthy/Columbia Basin Herald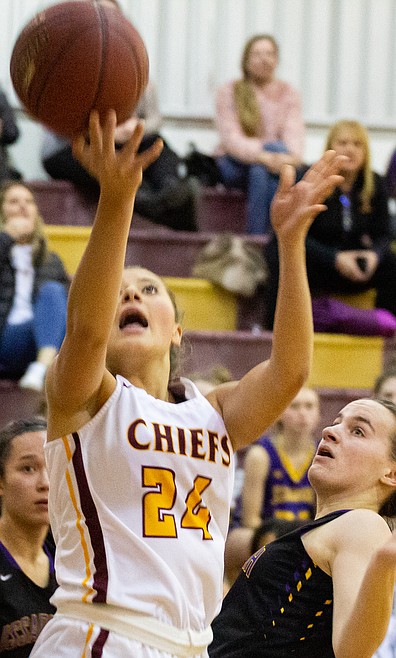 Senior Moses Lake guard Madisyn Clark drives to the hole for the score. Clark will continue her playing career at Western Oregon University next season.
Casey McCarthy/Columbia Basin Herald
Previous
Next
by
Casey McCarthy
Staff Writer
|
February 27, 2020 11:41 PM
MOSES LAKE — Excitement is the name of the game for Moses Lake senior guard Madisyn Clark this week.
She cut down the nets with her best friends in front of a home crowd last Friday as the Chiefs were crowned District 6 champions.
She signed with Western Oregon University to continue her playing career on Thursday.
And tomorrow, she gears up for her final run at a title with the Chiefs.
"It's just super exciting, being district champs especially," Clark said. "My senior year, in my last home game, cutting down the nets on my home floor is great. And doing it with all of my best friends is just super exciting."
Clark is one of five seniors on the Moses Lake girls basketball roster this season, a roster that finished the season on a 10-game winning streak and the top seed coming out of the Columbia Basin Big Nine.
Seniors Clark, Camille Carpenter, Carlie Gregg, Farrya Sandmann and Gabi Rios have been on the court together since elementary school. Clark said the team chemistry with this group "is just different."
"We're still super competitive on the court, which I think pushes ourselves to be better with each other," Clark said. "Even when we do something great, we're all there to support each other because we've been there with each other. I don't know, it's just a good support system."
Moses Lake head coach Matt Strophy said it's always beneficial having a core that has been together as long as this one has.
"If you maintain the same personnel, and people aren't switching in and out, you can develop that trust," Strophy said. "And, so, when you have them playing together for so long, that does make a difference. It makes (Madisyn's) job easier."
The point guard of the group, and the focal point of the new offense this season, Clark has been working toward this moment even before she began her time with Moses Lake as a freshman.
Clark said she has been coming to games at Moses Lake High School since she was little. Basketball is just in the community, Clark said.
Strophy talked about the progression of his senior guard's career from freshman to senior year, and the maturity he said was important for her to develop in that time.
"Going from her freshman year and being on JV, and doing on JV what she's doing now on varsity, I think it's important for our girls to be able to go through that progression, understand how to run a team," Strophy said.
As a sophomore, Clark was the first player off the bench for a loaded Chiefs team that gave the Moses Lake guard her first real taste of the postseason. Moses Lake finished the year 26-1, making it to the state semifinals in Tacoma before falling to eventual champion Central Valley, 51-33.
2017-18 seniors Jamie Loera and Abby Rathbun are both players Clark said she looked up to a lot. Playing against Loera as a freshman, the senior guard said she told herself then, "this is going to be me someday."
Loera is a sophomore with the Arizona State Sun Devils, while Rathbun is in her second year at the University of San Francisco.
The sophomore season gave Clark a taste of what it was like coming off the bench, Strophy said, but also producing. "She got a different role, but it was significant," Strophy said. "Then, as a junior, taking those things she learned and continue to develop, and lead, and grow."
As a senior, Clark has helped the Chiefs to an 18-3 season this year, finishing the CBBN schedule at 11-1. Moses Lake has won every game on its current win streak by double figures as the Chiefs have been a force on both ends of the floor all season.
By signing on Thursday, Clark said she won't have any more weight on her shoulders about the decision heading into the game on Saturday.
Playing at the next level is a goal Clark said she's had ever since she started playing at a young age. "It's been one of my goals, so it's super exciting achieving it," Clark said. "Even in high school basketball, reaching the next level in state after watching the older girls do it, now that we're here, it's super exciting."
The senior guard said she knows she'll have to step up her game on both ends of the floor as she heads to Monmouth, Oregon next season.
"Everyone can play; there's not just one or two girls that are good," Clark said. "I know I'll have to improve my defense and guarding everyone at the next level. Even my offense, just attacking other good defenders at the next level."
Clark said she's heading into a program where "they like to play everyone," and feels getting that early playing time will benefit her down the stretch.
For now, she gears up to extend her playing time with the Chiefs just a little bit more as Moses Lake heads into a win-or-go-home matchup with Decatur. Even with her postseason experience coming in, Clark isn't immune to the nerves that come with these matchups.
"The jitters started right after our Sunnyside game," Clark said. "I just know, you have to go out there and give it your all because you never know if it's going to be your last game. You can't underestimate anyone, especially this late in the season."
Playing near home at Big Bend on Saturday, Clark said she thinks the home support system will help them out a lot.
Capping off her career at the Chiefs in a way even Loera and Rathbun fell short of, a 4A state championship, would be "the best way to end it," Clark said.
Strophy said his senior has done "a wonderful job" in her growth as a person, and as a basketball player.
"I think the ability to go and play at the next level is a result of that," Strophy said. "I'm incredibly proud of her, and she's going to take us wherever it is she wants to take us. If that's the Tacoma Dome, then I'm incredibly proud and excited for her to take us there."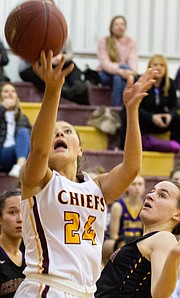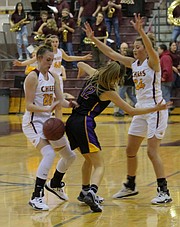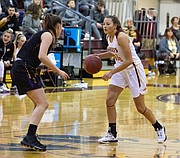 ---