MLHS names top 10 students of Class of 2020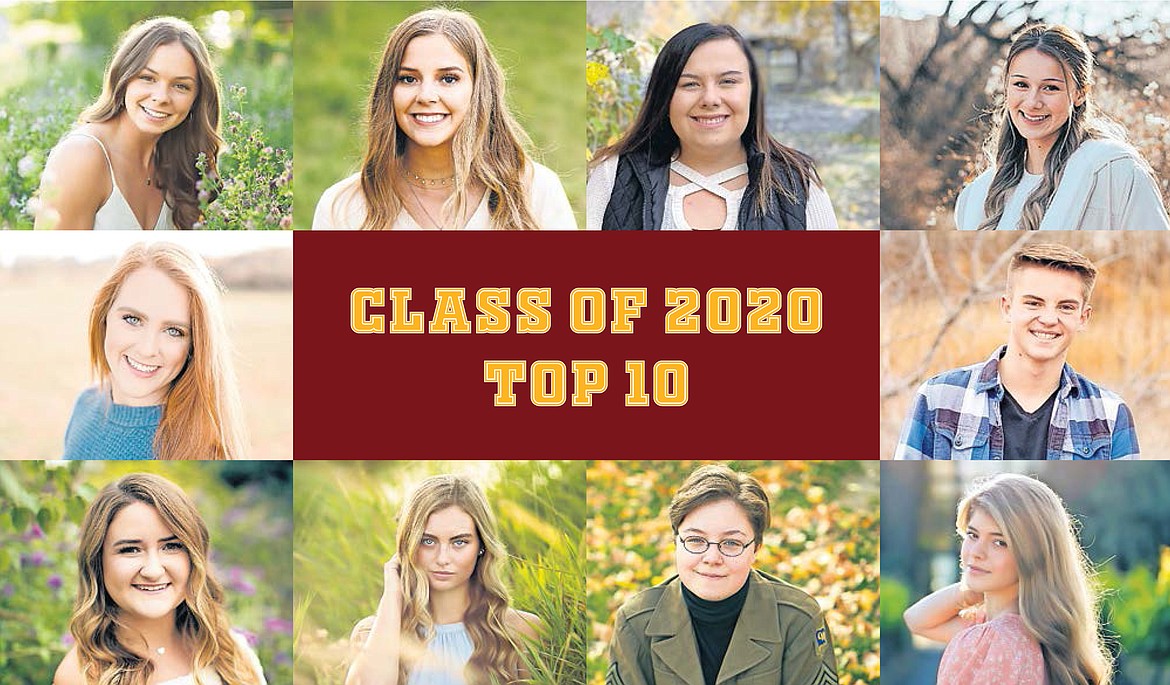 Clockwise from top left: Savannah Ashley, Joy Bruneel, Issabella Frizzell, Madeline Kling, Andrew Makin, Braelyn Widdis, Natalie Sloan, Gina Skinner, Kendall Sandhop and Ellie Knox.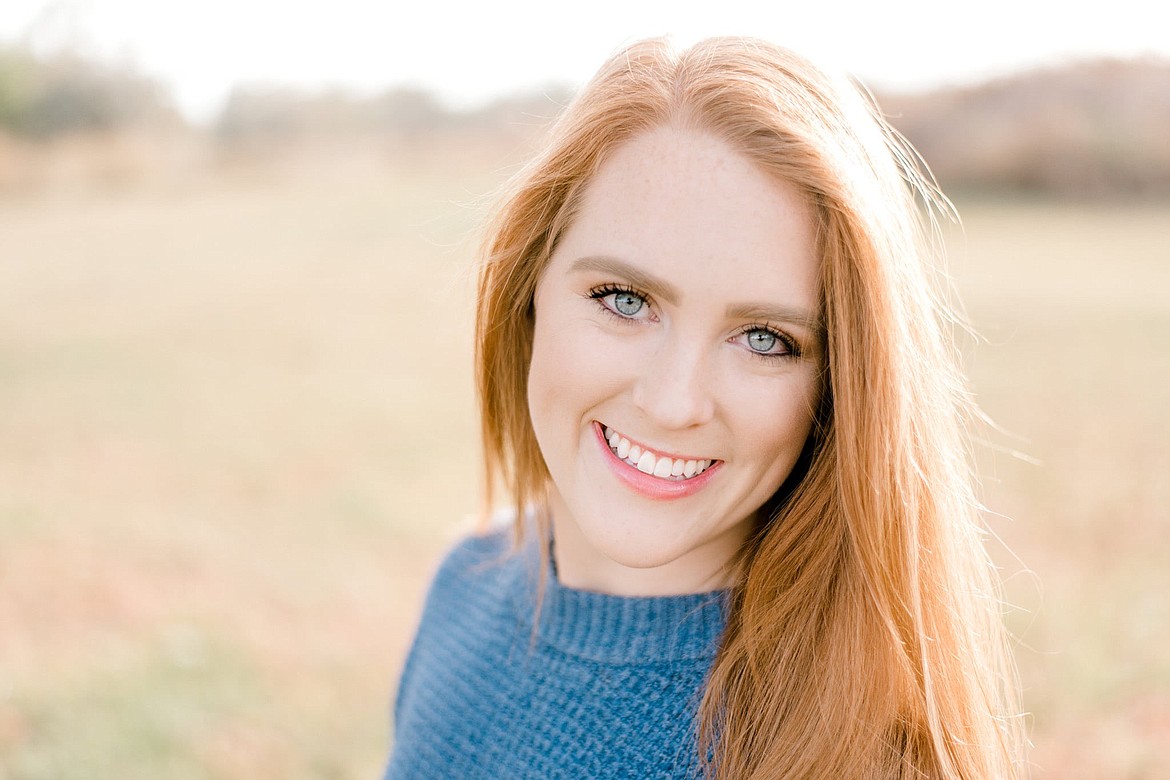 Top 10 cutline:Ellisa Knox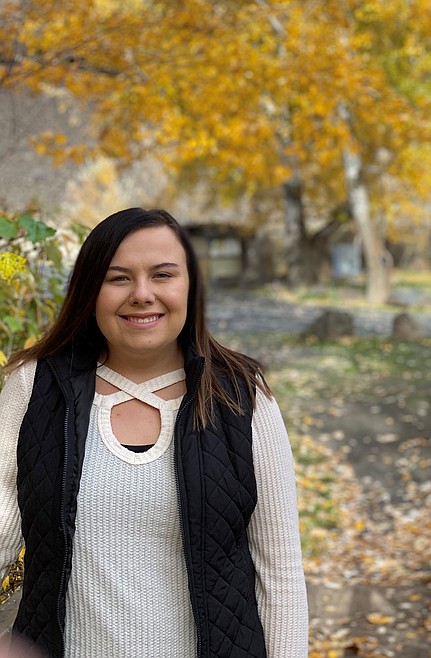 Top 10 cutline:Issabella Frizzell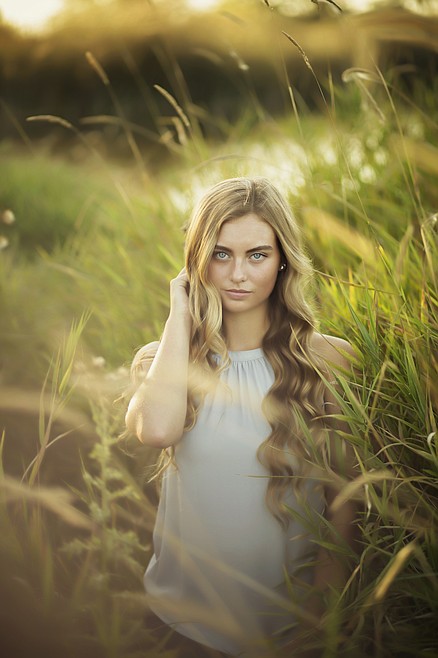 Top 10 cutline:Gina Skinner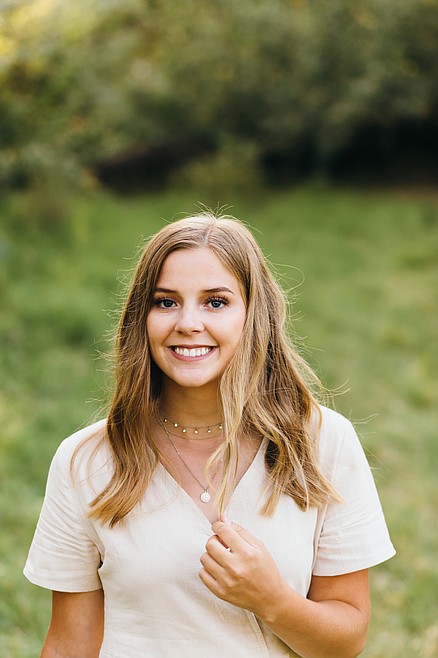 Top 10 cutline:Joy Bruneel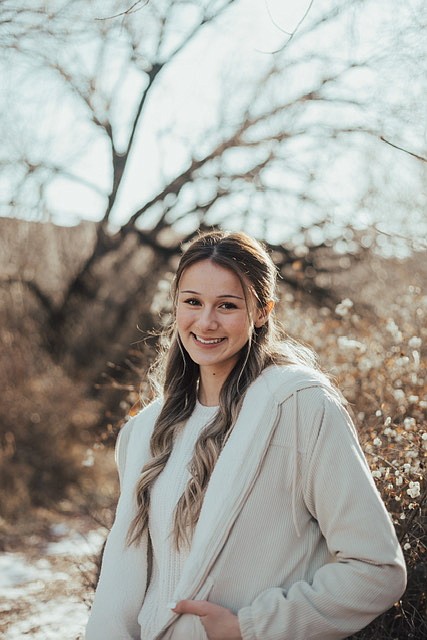 Top 10 cutline:Madeline Kling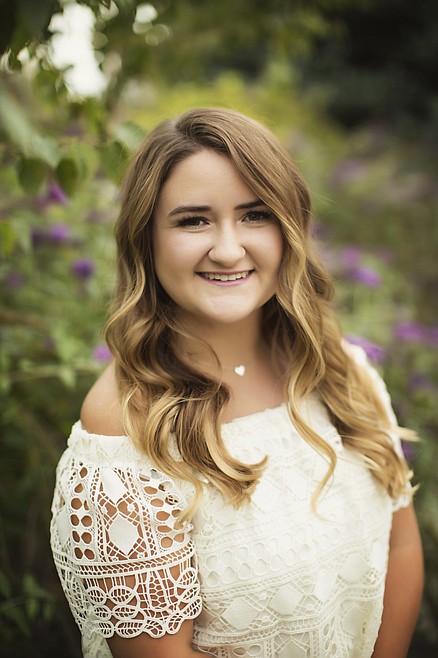 Top 10 cutline:Kendall Sandhop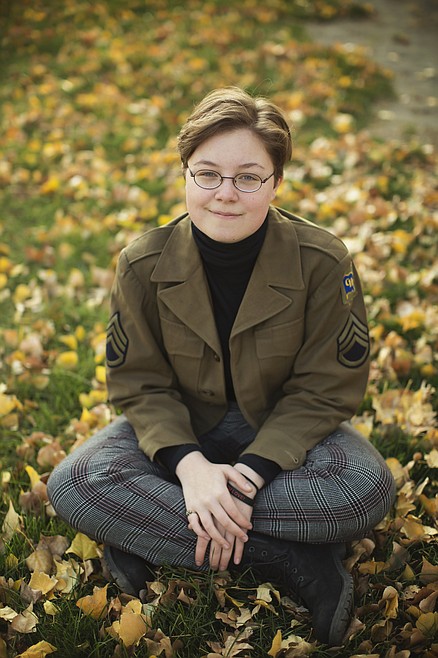 Top 10 cutline:Natalie Sloan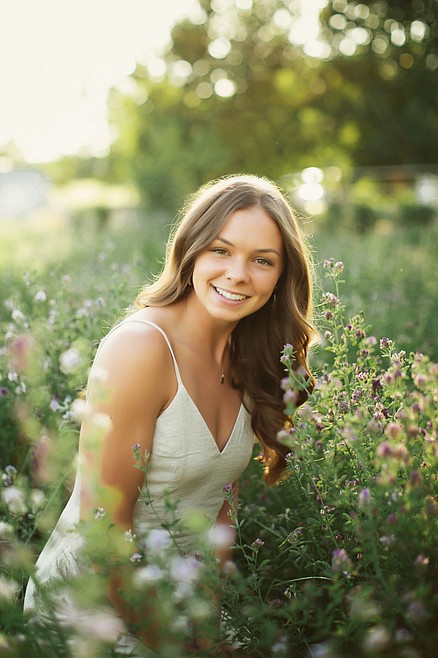 Top 10 cutline:Savannah Ashley
Top 10 cutline:Andrew Makin

Moses Lake High School's Top 10 seniors of 2020.
Courtesy image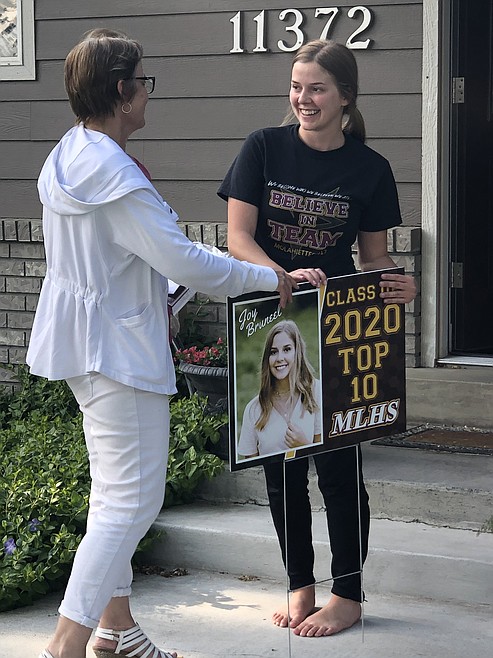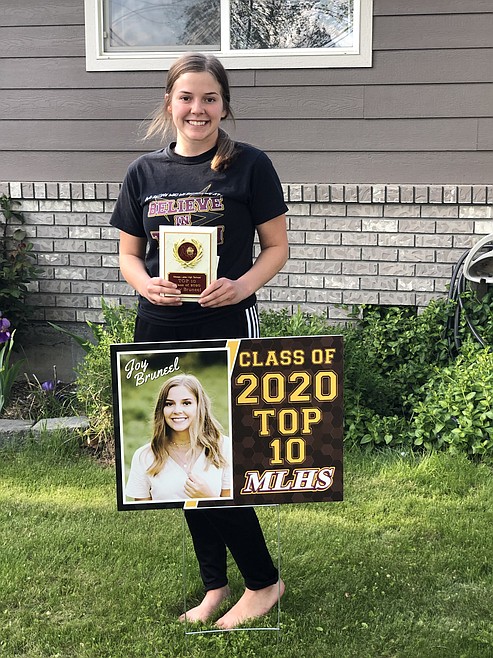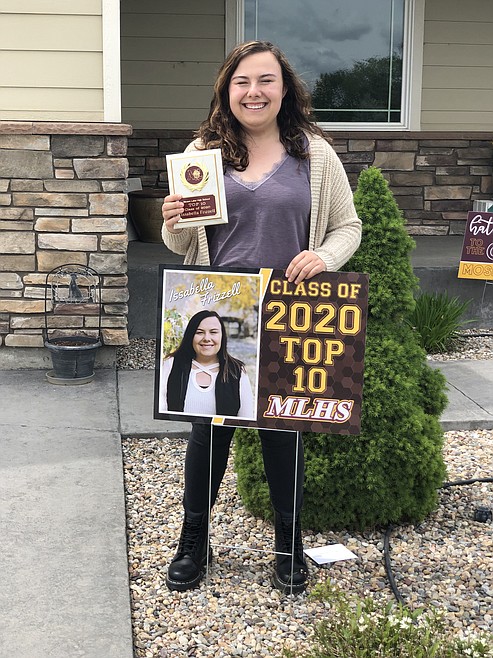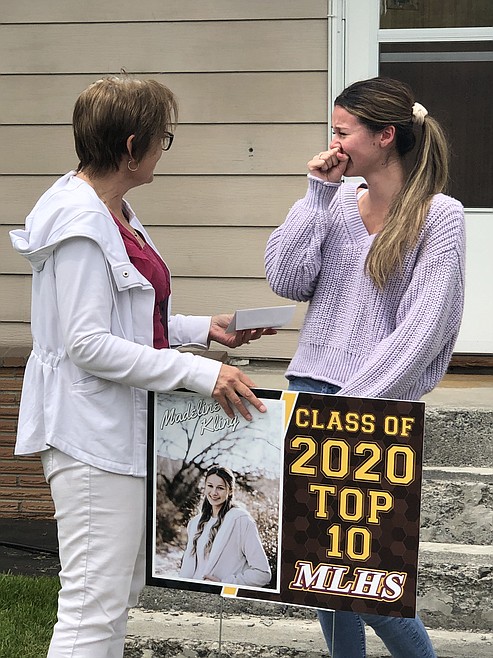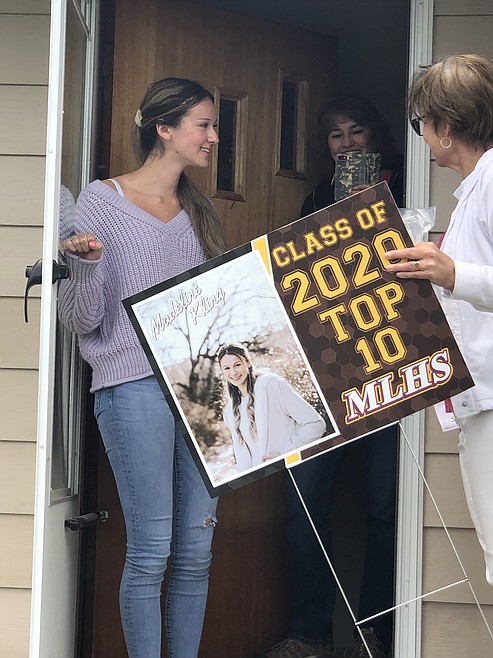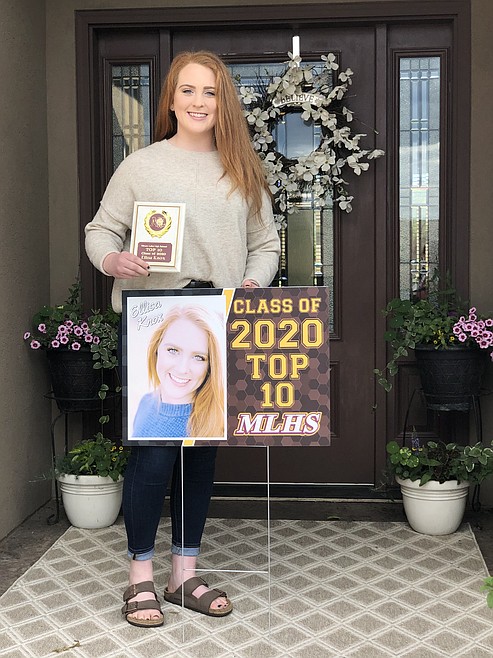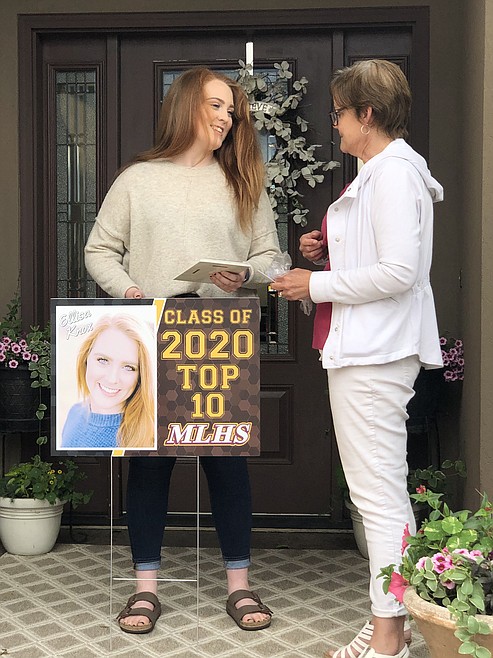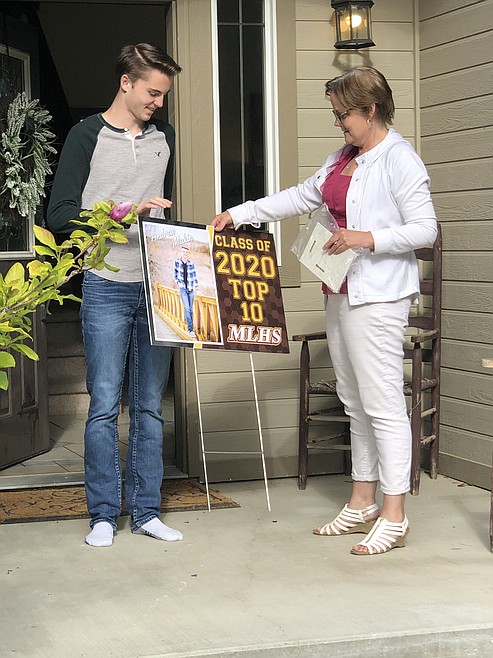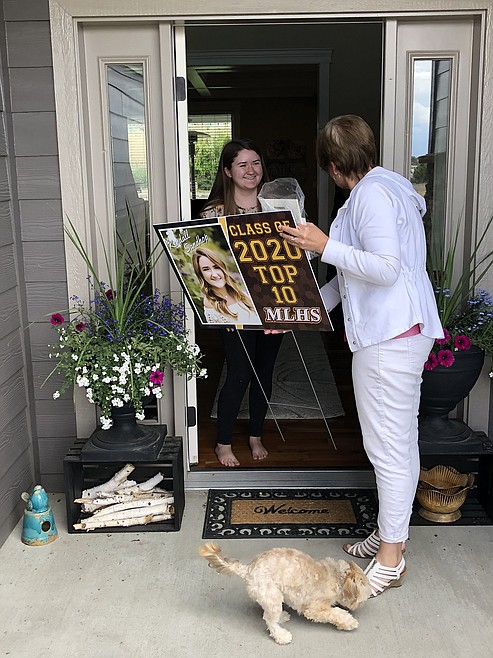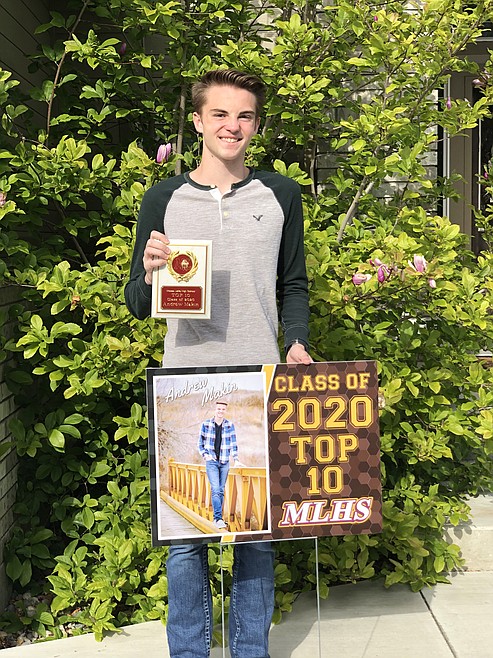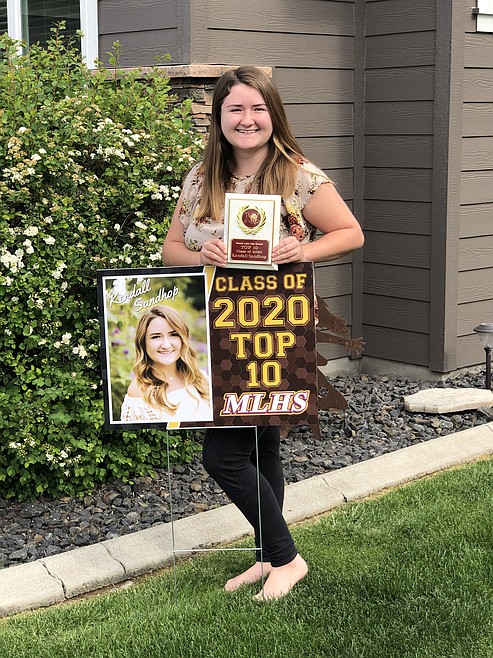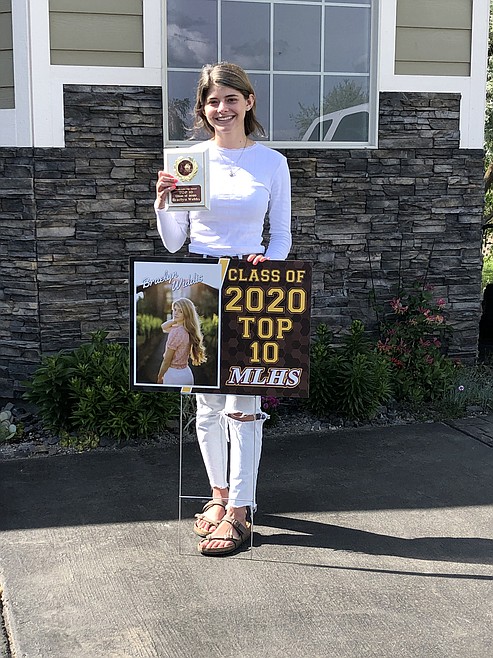 Previous
Next
by
Charles H. Featherstone
Staff Writer
|
May 22, 2020 12:06 AM
MOSES LAKE — As graduation nears during the COVID-19 pandemic, Moses Lake High School Principal Triscia Hochstatter named the school's top 10 seniors.
Like everything right now, it was an attempt to continue life as normal during an extraordinary time and honor 10 graduating seniors who have accomplished much during their four years in high school.
But without award assemblies or group photos.
"During the challenges that come with a pandemic, I chose to go to each of their houses to surprise them with a yard sign and plaque," Hochstatter said. "It is truly an honor to be able to recognize these amazing young adults."
To qualify for the award, Hochstatter said students needed to have both "the highest weighted GPA as well as have been active in school activities" and have been "well-rounded individuals" who challenged themselves academically.
"Something that I respect about these particular students representing our Top 10 is that they all seem to have an understanding that success isn't about getting that perfect score or grade all the time, but rather the willingness to persevere and learn from the struggles or challenges that come their way," Hochstatter said.
This year's Top 10 honorees are: Andrew Makin, Ellie Knox, Natalie Sloan, Issabella Frizzell, Joy Bruneel, Braelyn Widdis, Gina Skinner, Kendall Sandhop, Madeline Kling and Savannah Ashley.
Andrew Makin said he plans on studying engineering at the University of Washington in the hope of becoming a chemical engineer. Makin was very involved in the cross country and swim teams, as well as Knowledge Bowl and Science Olympiad. He credits his time on the cross country team for teaching him discipline and hard work.
"I love to run and work hard, and I love to run with my close friends outside of practice," he said.
Ellie Knox said she plans on attending UW as well with an eye toward eventually going to medical school and becoming a pediatrician because, as she said, "I want to help children in any way I can."
Knox was very involved in the MLHS cheer and stunt team, various academic honor societies and student government. And she credits her ballet teacher, Naomi Hanvey, as her most important influence.
"I did not feel like I had many friends but she was always there for me and she supported me in everything I did. Naomi was always someone I could talk to and express my frustrations and joys to," she said.
Natalie Sloan said she is planning on going to Cornish College of the Arts in Seattle "because I love creating and designing both characters and scenery," she said.
Sloan has been active in music during her four years at MLHS, especially jazz band, and said that "once the music starts, it's like you're family." She also attributed her success in high school to "anxiety," noting that she worries a great deal about both homework and tests.
"I would sacrifice my own well-being over doing poorly on a test or missing a homework assignment," she said. "This is extremely effective when it comes to doing schoolwork, not so much in any other aspect of life."
Issabella Frizzell said she intends to study nursing at Gonzaga University, which she says is a perfect fit for her post-high school plans.
"I want to be a nurse because I want to be able to help those in my community, and as a nurse there are so many paths and opportunities to choose from once I am in the profession," Frizzell said.
Frizzell was very involved in the Key Club, which she credits with cultivating a "love for service as well as made me realize the importance of community."
Joy Bruneel said she plans on attending Utah State University in the fall. While she has not picked a major, she did say "math has almost always been my favorite subject and I also enjoy science."
Bruneel was involved in drill team, dance and various honor societies, and said her time in the drill team taught her "how to be a leader and to never give up."
She also credits her father with being the main influence in her life, noting that "he has always taught me to focus on what is really important; he has showed me that knowledge is liberating."
Braelyn Widdis said she is planning on studying nursing at Gonzaga this fall, as well as trying out for the Zags cheer team "and continuing my cheer career."
A three-time state champion cheerleader, Widdis said cheer has taught her to persevere and "push through" even when things got difficult.
"I just pushed through it and got it done," she said. "I never let myself fall behind, I never let myself fail."
Gina Skinner said she plans to attend Northwest Nazarene University in Nampa, Idaho, where she hopes to study education.
Skinner played fast-pitch softball all four years of high school and was involved in various honors societies and clubs.
"I looked forward to fast-pitch softball the most every year because softball has been a big part of my life, and being able to compete with my friends and make so many memories was something that couldn't be replaced," she said.
Kendall Sandhop said she plans to attend Whitworth University in Spokane and major in biology and environmental science, with an eye toward possibly working "in the research side of medicine."
"I have always loved science and I am really passionate about the environment, so I can't wait to study both," she said.
Sandhop was captain of the MLHS golf team, a member of several honors societies and was on the Knowledge Bowl team.
Madeline Kling said she plans to attend Big Bend Community College this fall with an eye toward transferring to Eastern Washington University and eventually earn an accounting degree.
"My goal is to double as an accountant and a photographer. I'm very interested in the world of business and am looking forward to working alongside professional accountants in the future," she said.
Kling played volleyball her first two years of high school, was involved in several honors societies and regularly proctored the sixth-grade "Math is Cool" competition.
Savannah Ashley said she will be attending the Massachusetts Institute of Technology where she is considering majoring in chemical and biological engineering with a minor in physics.
She's not sure what she plans to do when she's done, but said "most likely I will be an engineer."
Ashley has been a member of several honors societies and earned several all-team awards while playing softball, which she calls her "stress relief."
"Since a young age I have set very high expectations for myself. I am very competitive and driven. I think this has helped me succeed in academics because I have always given my full effort into all I do, including school," Ashley said. "I live by the fact that if you don't put 100 percent into the things you do then they aren't worth doing."
Charles H. Featherstone can be reached at cfeatherstone@columbiabasinherald.com.
---