Moses Lake realtor Tara Zerbo didn't allow cancer battle to slow her down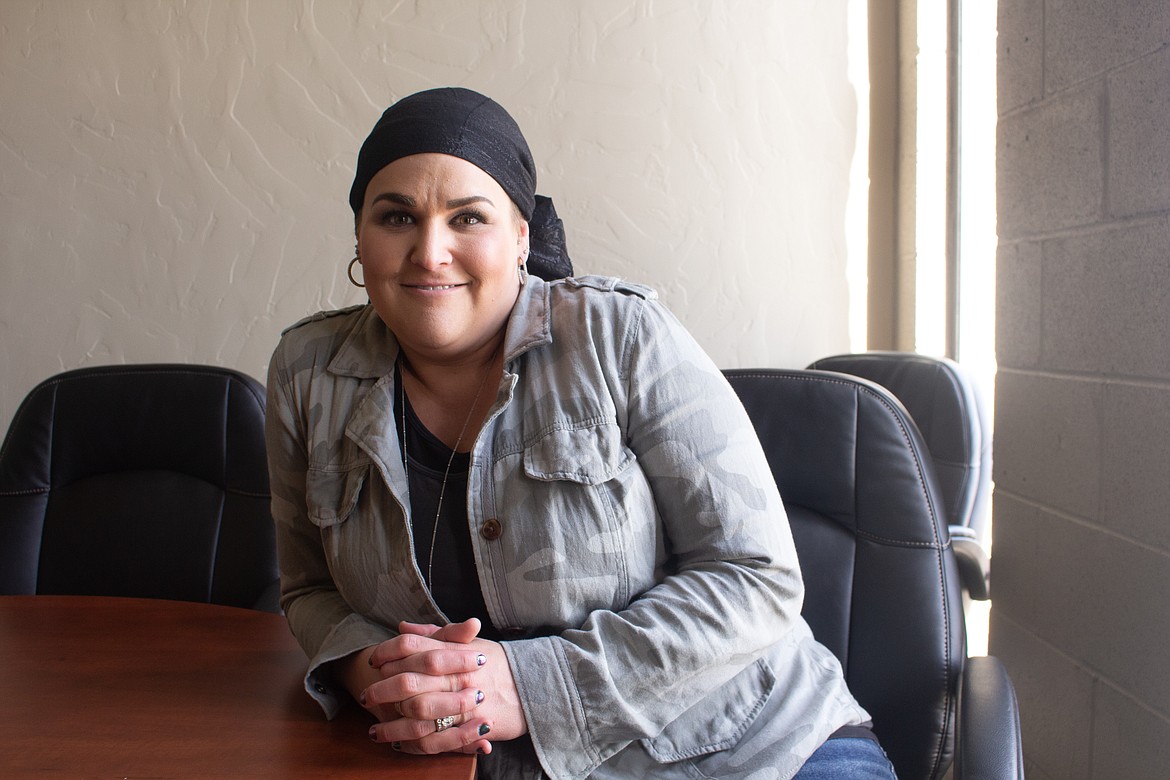 Tara Zerbo's fight with Hodgkin's lymphoma couldn't slow her down as she fought to continue to work as a realtor during her journey.
Casey McCarthy/Columbia Basin Herald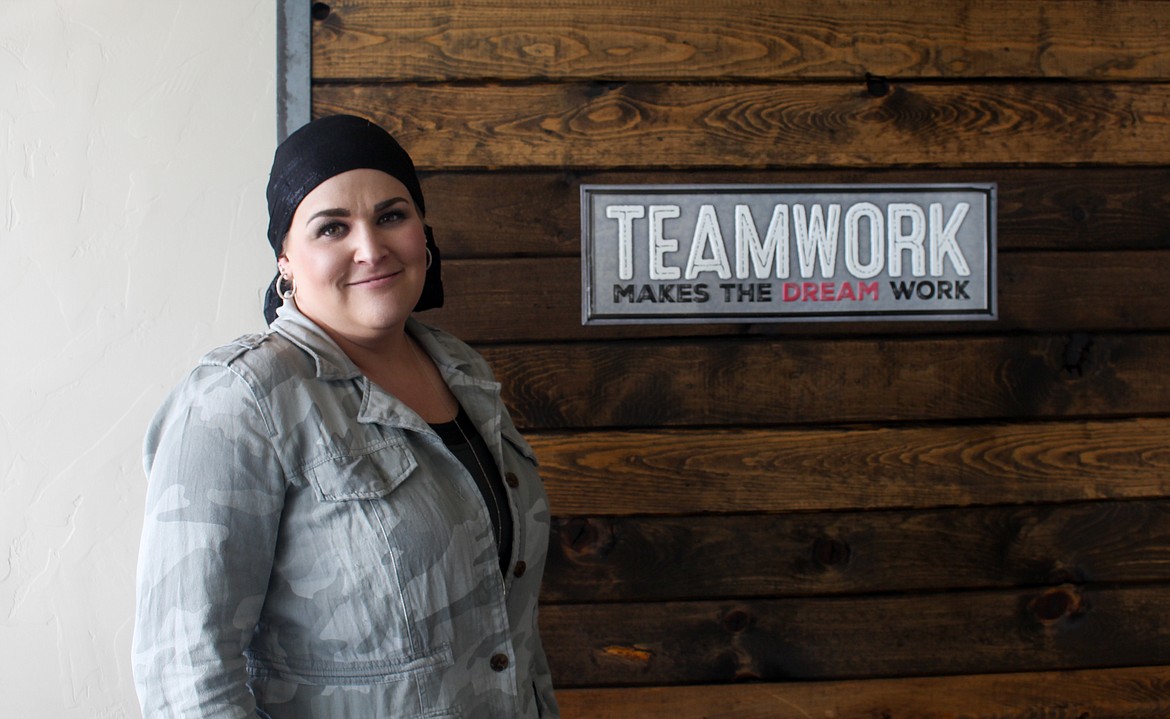 Tara Zerbo, inside her office at Team Up Real Estate in Moses Lake, a job she said she loves and helped keep her going through her battle with Hodgkin's lymphoma.
Casey McCarthy/Columbia Basin Herald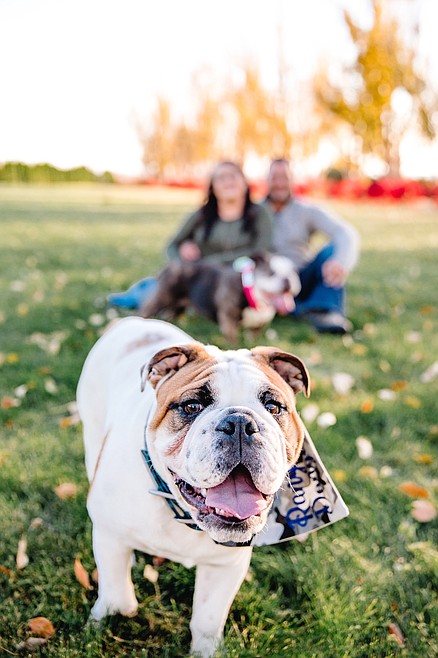 Ranger, a 1-year-old male English bulldog, steals the spotlight during a family photoshoot with his owners, Tara and Dusti Zerbo.
Tara Zerbo/courtesy photo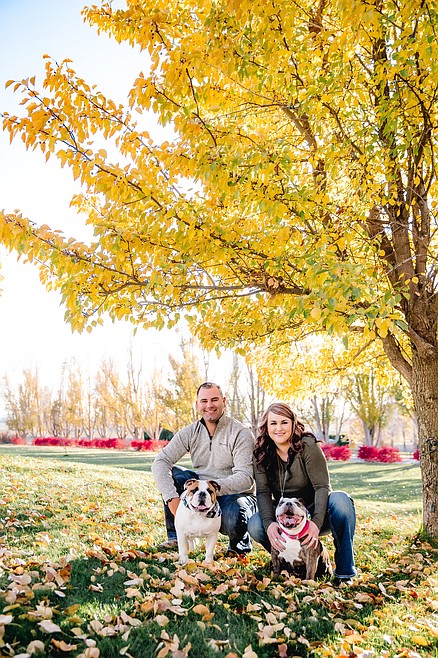 Dusti Zerbo, Tara Zerbo, Ranger, and Talula pose for a photo outside the Zerbo's home.
Tara Zerbo/courtesy photo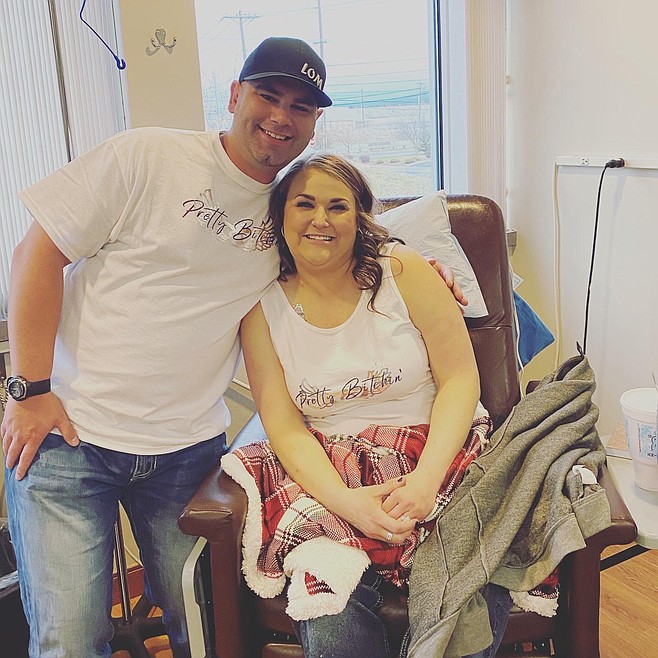 Dusti and Tara Zerbo smile together after Tara's second round of chemotherapy at Cancer Care Northwest in Spokane in December, 2019.
Tara Zerbo/courtesy photo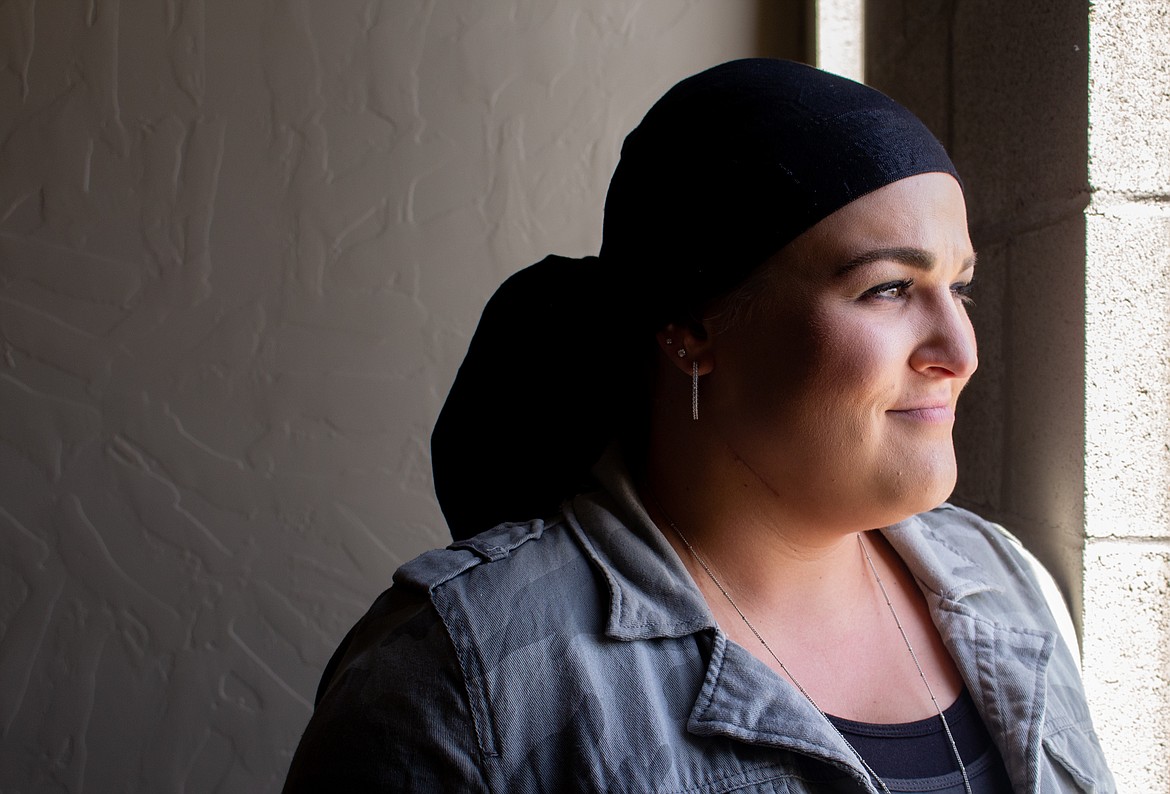 After 10 rounds of chemotherapy, Tara Zerbo, now almost two months removed from treatment, looks to get back to working in an industry and community that she loves.
Casey McCarthy/Columbia Basin Herald
Previous
Next
by
Casey McCarthy
Staff Writer
|
May 21, 2020 12:11 AM
MOSES LAKE — You wouldn't know the struggles Tara Zerbo's been through the past few months from her bright smile and outgoing attitude. You wouldn't get it from her work schedule either, where she hardly missed a beat.
Only the lingering effects of her 10-round chemotherapy treatment give any evidence of Zerbo's battle with Stage III Hodgkin's lymphoma. Now cancer-free, she is back in her routine as she looks back at the town, experiences, and battle that shaped her.
Zerbo was born and raised in Moses Lake where she graduated from high school in 2004. Thanks to the Running Start program, Zerbo graduated from Big Bend the same year. Zerbo would meet her husband Dusti while attending Big Bend before the two headed off to Ellensburg and Central Washington University.
After two years at CWU, where she received her bachelor's degree in business in 2006, Tara Zerbo returned home and started working as a sales representative with the Columbia Basin Herald. Tara and Dusti Zerbo married as soon as they got back to Moses Lake, she said.
"They make the joke that everyone in the Columbia Basin has worked at the newspaper at some point in their life," Tara Zerbo said. "It's 100 percent true, whether you worked there for a week or 10 years, whatever it is."
Zerbo built a long list of business contacts, mostly real estate, during her newspaper career. She eventually decided to make the move into the industry herself after 10 years with the paper. She's now coming up on four years as a real estate agent next month, currently working as a broker with Team Up Real Estate in Moses Lake.
Signs of trouble
It was in late summer of last year that Zerbo said she first noticed a swollen gland on the left side of her neck. Zerbo said it didn't hurt, only swollen, but she kept her eye on it as time went on.
As fall moved along, Zerbo said she started experiencing more difficulty from time to time swallowing and breathing. Her husband insisted she go in to the doctor and get it checked out, and they discovered that the issue was her lymph nodes.
After bouncing between doctors and specialists, having ultrasounds and biopsies done, results came back showing necrotic, or dead, tissue in her lymph nodes. After scheduling and awaiting a surgery to remove the dead tissue, Tara Zerbo said she woke up on Nov. 14 to see the side of her neck swollen to the size of a baseball.
Returning to the doctor, Zerbo underwent a CT scan before receiving the diagnosis of Hodgkin's lymphoma, Stage III cancer.
Zerbo said she was told she'd be leaving for Sacred Heart Medical Center and wouldn't be leaving "until they fix you." She arrived at the hospital at 8:30 p.m. and left eight days later.
"You're shocked and don't really know what to think other than, holy crap, I have cancer, worst nightmare, right?" Zerbo said. "But, what was good is that we immediately went from, okay, here's what you've got to, okay, here's what we're going to do to fix it."
Tough treatments
Dusti Zerbo said watching his wife go through this was tough early on.
"Obviously, I didn't want to act scared or stressed out in front of her," he said. "So I held a lot of that in and was supportive and by her side through the entire deal, taking her to appointments and chemo treatments. Luckily, I have a job where I can do a lot of work from home."
Dusti Zerbo said he'd stay home those two days after she got back from chemotherapy treatments. Tara Zerbo said she went in for her first treatment at Cancer Care Northwest on Wednesday, Nov. 19, in Spokane, returning every two weeks for 10 rounds.
Tara Zerbo said she tried to keep things light, making jokes, because otherwise the situation would be too heavy. Two big syringes awaited her each visit, one with red liquid, one with clear, which she liked to lightly refer to as her new "vodka and cran" mix.
In reality, she said, coming to the chemotherapy suite – which she added wasn't much of a suite – wasn't at all like she imagined.
"It's literally like a bullpen, like a massive, open room with all these medical recliners, and everyone's laying there getting their juice," she said. "It is very depressing the first time I saw that. I thought that it was going to be like in TV or the movies. It is not."
Thirty-three at the time, turning 34 in January, Zerbo said she was usually the youngest person there and didn't look forward to it. She said she was encouraged to hear that the new hospital being built will have individual rooms for its chemotherapy suites.
Zerbo said she'd go get a bite to eat after treatment during the short window before really starting to hurt. Treatments became worse over time, cumulatively stacking on each other as they went on, she explained.
From each Wednesday of treatment to Saturday or Sunday, Zerbo said, she was pretty much down and out. By Monday, she said, she'd be back to her busy daily routine, until the dreaded return to Spokane the following week.
Zerbo went in for her final chemo treatment on March 25, the first day of quarantine measures. She said she'd already been practicing all of the measures since November, anyway. After being pumped with poison 10 times, she said, a virus didn't seem like as big of a concern.
Coming out stronger
Throughout everything, Zerbo said she tried to remain positive and address the fight head-on.
"I could sit and wallow and be super depressed about it, but it's not going to fix it," Zerbo said. "You kind of have to go back into that mindset of, okay, we're going to fix this, and we're going to come out ahead in this. I'm going to come out better, stronger. I mean, I made it past one of the toughest things you can go through."
Zerbo recently had her six-week checkup on May 8, having her port taken out, and is officially cancer-free. She said she'll continue to go in for blood work every three months since Hodgkin's lymphoma is a blood cancer.
A battle with cancer didn't keep Zerbo from working at a job she loves throughout the journey.
"I was still working. I was still making calls, making sales, showing houses, doing all of that as much as I could," she said. "I was definitely able to finish the year strong."
Zerbo said her work family was beyond supportive and helpful throughout everything, putting together a meal train for her, offering help with showings, and just general support.
"I mean I knew going in we had the best work office family, everything, it was just more reaffirmed through this whole process," she said. "I'm very thankful we had a lot of other agents in our office who would show for me, help me, and they didn't expect anything out of it. They just did it to help, which really doesn't happen other places."
Zerbo said the ability to continue working through everything helped her keep going.
"I love what I do, I love working, I love working with people, and I love progress," she said. "I think if I hadn't had all that, I honestly think it would have made this harder."
Zerbo's passion for people and the community of Moses Lake, paired with her numerous business connections, led her toward working with the Moses Lake Chamber of Commerce.
'An inspiration to others'
Currently, Zerbo serves as a chamber ambassador, sort of acting as the face of the chamber for the community, helping with events, tours and other things.
Debbie Doran-Martinez, president of the chamber, said Zerbo is usually there helping with any event they hold. Doran-Martinez said Zerbo seemed to remain positive throughout the whole process as she continued to do her job.
'It's good to see she took a "it's not gonna get me down' attitude, and kind of took it by the horns and dealt with it," Doran-Martinez said. "That's good. She's an inspiration to others that have to fight that fight."
While it was tough knowing she couldn't rely on herself, Zerbo said she was thankful for the waves of support she received from family, hospital staff, the Columbia Basin Cancer Foundation, and everyone in the community. Zerbo said she wanted to especially thank her husband for his help and support through the entire process.
"I'm extra appreciative of my husband, and my family, and my work family," Tara Zerbo said. "They were beyond phenomenal throughout this process."
Dusti Zerbo said he and his wife already have a trip booked for Cabo next fall to celebrate her victory. As the world opens back up for his wife, and everyone, Dusti Zerbo said he knows she's ready to get back out.
"She's excited for all these lockdown restrictions to be removed so she can actually be with people and not have to worry about her immune system," Dusti Zerbo said. "She can just move forward and try to forget about everything that's happened this past year."
---