2020 seniors honored with art installation on Lind-Ritzville High School field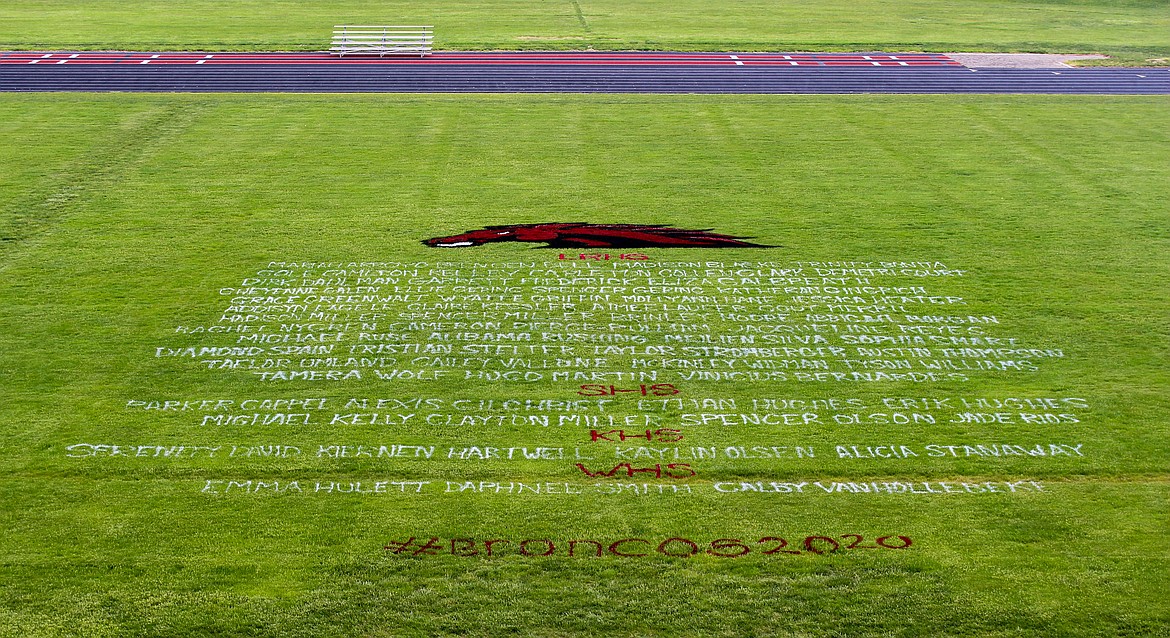 Seniors from Lind-Ritzville High School, as well as seniors from the Sprague, Washtucna, and Kahlotus school districts, were honored on Saturday with their names being painted on the football field at LRHS.
Casey McCarthy/Columbia Basin Herald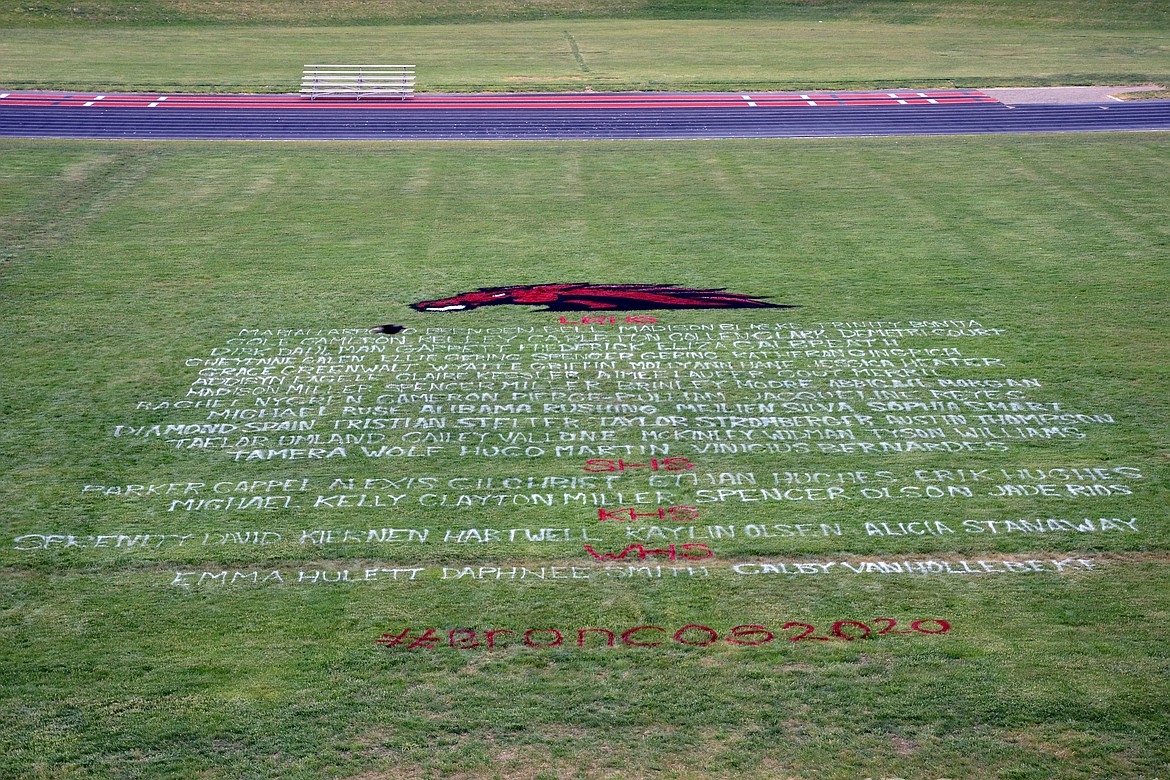 KD Consulting, LLC/courtesy photo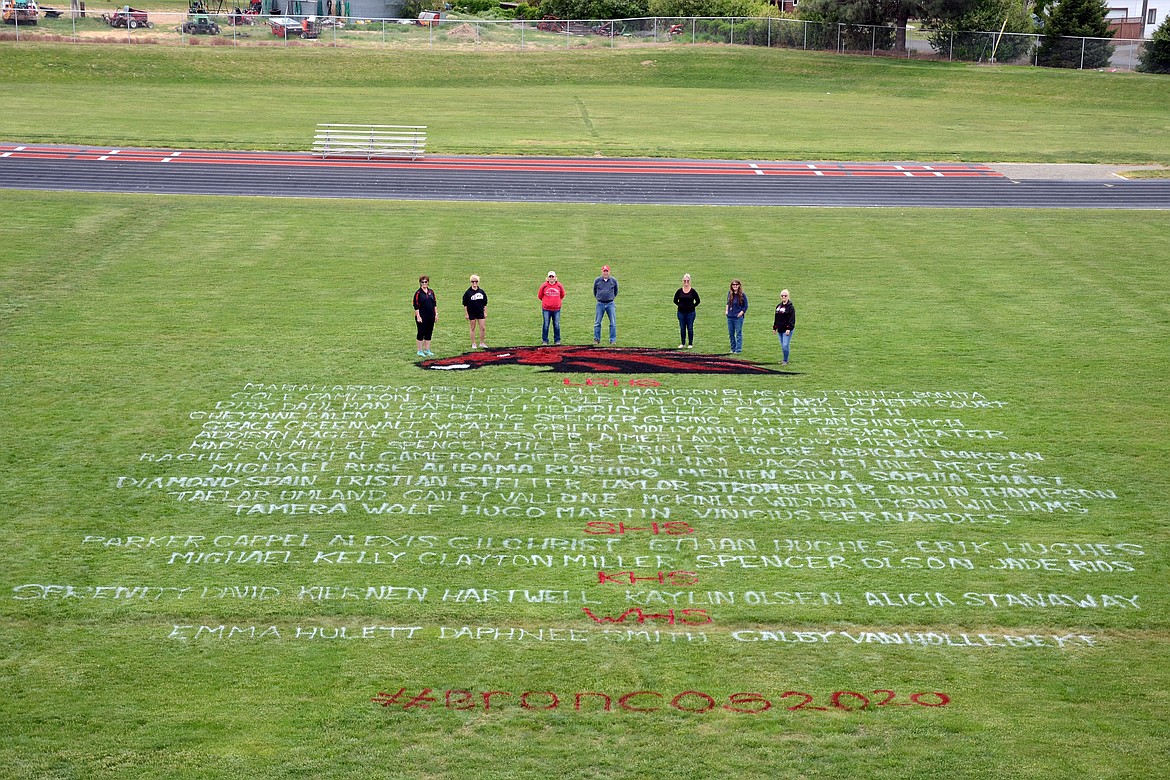 KD Consulting, LLC/courtesy photo (From left to right) Julie Hartz, Janet Phillips, Rita Fryberger, Tyler Fryberger, Kris Robbins, Michelle Smith and Lisa Cox stand by the art project on Lind-Ritzville High School's football field to honor 2020 seniors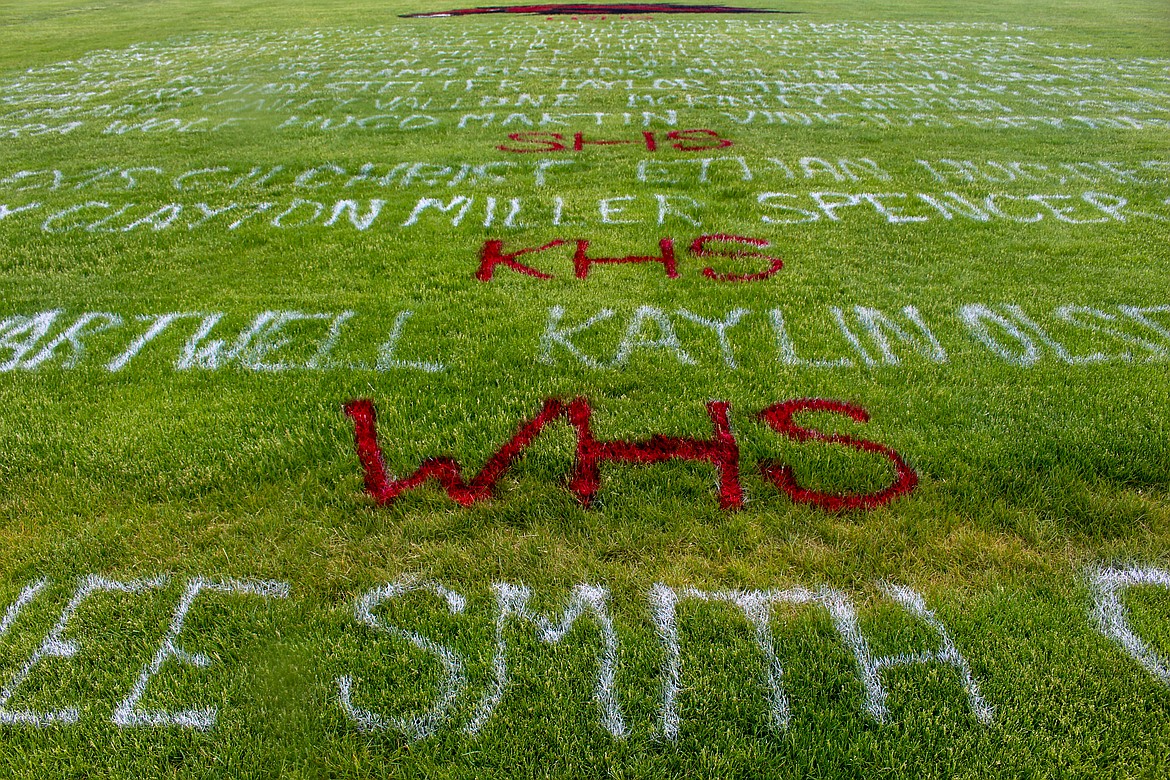 Seniors from Sprague, Kahlotus, and Washtucna high schools were honored alongside the Lind-Ritzville High School seniors on the football feld over the weekend.
Casey McCarthy/Columbia Basin Herald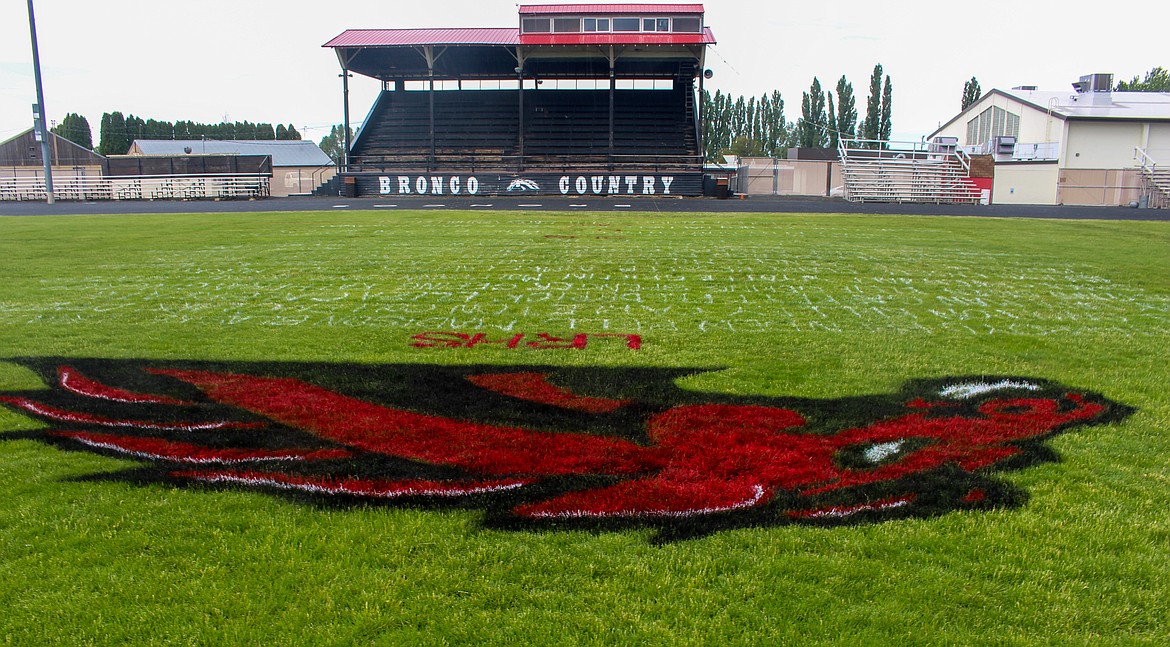 The LRHS Bronco logo on the Lind-Ritzville High School football field sits above the names of the seniors from the 2020 class, with the project being completed over the weekend.
Casey McCarthy/Columbia Basin Herald
Previous
Next
by
Casey McCarthy
Staff Writer
|
May 21, 2020 12:09 AM
RITZVILLE — 63 seniors from Lind-Ritzville, Sprague, Washtucna and Kahlotus high schools are being honored on the football field at LRHS. Sprague, Washtucna and Kahlotus seniors are part of the athletics combine between the school districts.
Rita Fryberger, a teacher at Chief Moses Middle School, said her brain started running at a thousand miles per hour when she first saw the aerial shot of the "Field of Chiefs," honoring the 2020 class in Moses Lake.
Fryberger, whose children graduated from Lind-Ritzville High School, said she knew the school district had a stencil for painting the bronco on the football field already and thought the project could be replicated.
"It was just a natural progression from 'hey, we've done the head on the field for the football games, we could certainly do this,'" Fryberger said
Living near Ritzville, Fryberger said, she holds a special connection with this year's senior class at the high school.
"I taught for three years in the Lind-Ritzville school district when it was starting its cooperative," Fryberger said. "I had this group of seniors, I had them as sixth-, seventh-, and eighth-grade students in English."
Fryberger also served as a member of the Lind-Ritzville/Sprague BroncBoosters — a group that helps support extracurricular activities — while her children were in school, serving as president for two years.
Fryberger said she and her husband still contribute today, but aren't necessarily active parent members. While they're still involved in the community, the connection with the seniors brought a little more to this project, Fryberger said.
Fryberger said it was that BroncBooster mentality, supporting all Broncos, that went into the decision to include the names of seniors from the other three schools.
"We wanted to pull those other three schools in." Fryberger said. "They're small, and we wanted them to be honored right alongside our Lind-Ritzville kids because we announce their names in games, they're there for homecoming, prom."
Fryberger said she sent out messages when she first got the idea for the project to retired BroncBooster parents, asking if they'd be interested in helping out. After several positive responses, Fryberger said she got on Amazon and started ordering field paint.
"I started sketching things out on the computer, and we nailed down a date and a time," Fryberger said. "There were seven or eight of us that showed up on Saturday and three hours later we had a field."
Fryberger said she was excited to start the project on Saturday, finishing everything in about three hours with the help of other volunteers. Fryberger said she was initially worried the project might take all day.
"We were done in three hours," she said. "And then to step back and look at it, it was like, 'oh my gosh, that's awesome,'"
The post took off through social media, shared by students, parents and other community members. Fryberger said seeing the seniors come out to take photos with the field was pretty emotional for her.
Fryberger said there's been a positive response so far, and she thinks it meant more to these seniors with them missing out on some of the more traditional senior year moments.
The community has put together some other projects as well for the seniors to try to give them some moments to remember.
"Having those couple different things that were special, event though it's not traditional, they realize the community is behind them, supports them, and is trying to encourage them in this weird time," Fryberger said.
As a senior athlete came across the field to take photos over the weekend, Fryberger said she thought of her own son who'd played football, remembering how important that last game was for him.
"That kid, he got his football season, but he didn't get his baseball season or his track season," she said. "That last walk on the field, it's different than it should have been. But, at least there's kind of that closure, I got that last walk on the field."
Fryberger said this time will hopefully remind students, especially the underclassmen, to live in the moment, not waiting for next year or next season.
"It's an opportunity to learn that you can't put off things you want to do because you never know, is this going to be last time we're going to be in English together, the last time I'm able to do my long jump, the last time I'm able to play softball in high school?" Fryberger said. "As sophomores and juniors, they're thinking 'I can't wait for my senior year.' And your junior year was it. You were so busy looking forward to your senior year that you weren't enjoying your junior year."
---