Salon bill mostly dead, maybe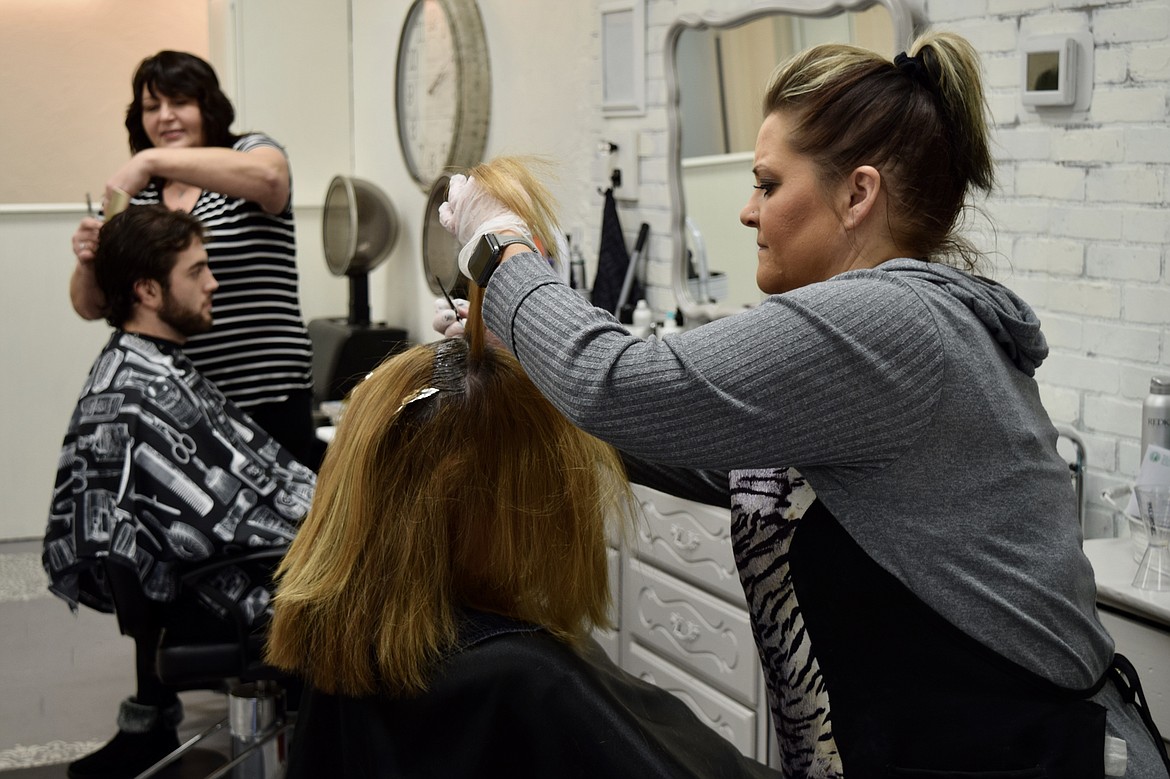 Susan Redwine (left) and Jessica Fabian both rent "booths" at R Tistic's Hair & Nail Salon on Third Avenue in Moses Lake. A bill in Olympia would make it illegal for them to rent spaces in licensed salons and earn a living as "independent contractors."
by
Charles H. Featherstone
Staff Writer
|
January 24, 2020 12:20 AM
MOSES LAKE — Despite being reintroduced in Olympia last week at the start of this year's legislative session, a measure that would make it illegal for salon owners to rent out space to independent contractors is not going anywhere.
"Nothing is happening with it. It's done, it's completely done," said a staffer for State Sen. Karen Keiser (D-Des Moines).
The measure, Senate Bill 5326, would make it a crime from any "holder of a salon/shop license" to "lease, sublease, or provide space" to any licensed cosmetologist who has "a separate business."
The bill would also remove "booth renter" from the list of occupations excluded from mandatory coverage under state employment insurance regulations. Also excluded from mandatory coverage are domestic servants, under-age children working on family farms, anyone working merely for subsidence for a religious order, newspaper deliverers, musicians for hire, and jockeys who ride horses during races.
The Keiser staffer said the reintroduction of the bill was merely pro forma, and that all bills which failed to pass in the first-year of the state's two-year sittings are, as a matter of course, reintroduced.
"It's alive and retained, but it's not scheduled for committee," confirmed an Olympia staffer for Sen. Judy Warnick, R-Moses Lake. "But it's still alive."
The Warnick staffer said that if Keiser has no intention of moving forward with SB 5326, that likely means the bill truly is dead. However, the staffer also noted that the bill was marked up by a committee last year, so it is possible Democrats could quickly revive the measure and move it for a vote.
"Down here in Olympia, anything is possible," the staff member said.
The measure remains as unpopular as it was last year with local salon owners and hair stylists, many of whom are independent contractors and would not be able to keep working if the measure was ever signed into law.
"I would not be happy, and I would say, just forget about it, I'm retiring. And just leave," said Terri Knopp, the owner of R Tistic's Hair & Nail Salon at 516 Third Ave. in Moses Lake.
"I think a lot of owners would do that," she added.
Susan Redwine, an independent contractor at R Tistic's cutting hair Thursday afternoon, said she likes having her own business, and that leasing a space in a salon allows her to do that without the overhead of maintaining her own salon.
"We do have our own businesses," she said.
"We can make our schedule and work when we want and play when we want," added Jessica Fabian, a stylist who was coloring hair in the next chair. "Nobody really tells us what to do. We're really our own bosses."
Charles H. Featherstone can be reached at cfeatherstone@columbiabasinherald.com.
---